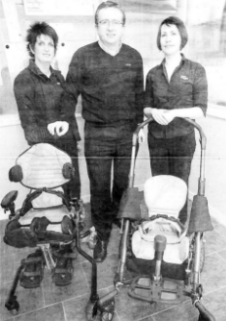 Claire Wright. Clinical Research manager, Noel McQuaid and Caoimhe McMahon. Product Researcher of James Leckey Design. US0508-125A0
LOCAL company James Leckey Design is one of four companies to receive a prestigious 2007 Spark Award for their work on equipment for children with special needs.
The Dunmurry firm, which specialises in the design and manufacture of positioning equipment for children with special needs including cerebral palsy. muscular dystrophy, and spina bifida, was given the award with the University of Aberdeen to enable them to jointly carry out ground breaking new research.
The University team. led by Dr Mark Mon-Williams, has expert knowledge in Development Co-ordination Disorders (DCDs) and how they affect an individual's ability to function. Leckey Design has also been researching this same area - but specifically with special needs children.
The Spark Award enables lames hockey Design and the University to start a joint research project which will look at the effect of postural support equipment on function in children with special needs. To date there is little published research on this topic and as such the work is truly cutting edge.
The Electronics Enabled Products Knowledge Transfer Network (KTN) Spark Awards are designed to build relationships between small to medium sized enterprises and higher education institutes.
Noel McQuaid, the Technical Director at lames Leckey Design, said they were delighted to receive the award. This is part of an ongoing initiative to have strategic partnerships with academic centres of excellence so that we can carry out clinical research that is unbiased" he said.
We have almost completed the first phase of the research which involved resolving the technical issues of how to measure movement. We are using the latest optoelectronic and electromagnetic devices to measure children's movement when supported and unsupported in our new Mygo seating system."
Noel continued: "We want to understand this benefit so that we can use it as pan of future product development but also to help children, their carers and health professionals understand the benefit of using our equipment. There has been a big drive globally to provide evidence on the effectiveness of equipment for special needs kids and this award enables us to be the first in our market place to provide this evidence."