BY AUDREY GREGG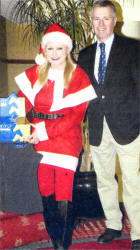 A CHRISTMAS Charity Pleasure Ride has been organised by Joan Cunningham from her stables at 50 Lisburn Road, Saintfield on Saturday, December 6.
Last year's event raised £5,000 for orphans in Uganda and Rwanda, many of whom have lost their parents to AIDS, or who were murdered. The orphanage established by Rock Children's Family, a project funded by Rock Ministries (NI), urgently need more funds to extend the Orphanage and care for the children's needs. Joan is asking everyone taking 1 part in the event to dress up as Santa. Special prizes will be awarded to the best and the event will be judged by a special celebrity.
Riders meet at 12 noon at the stable yard and glasses of mulled wine and mince pies will be available prior to the event at 12.45pm.
The ride, strictly a hack, will 7 take place along roads and laneways and is scheduled to be at the Main Street, Saintfield at 2.15pm. Santa will he on board a horse-drawn carriage and will later join carol singers around the Christmas tree.
A festive lunch will be served afterward and children will get another chance to meet Santa. 4 Donations including lunch will be £20 for adults; £10 for children. Lunch alone will be £5.
For further details ring Joan on 97519030 or mobile 07775860744.