John photographing Eamonn Holmes
Peter Wilson (Duke Special) with Dad Trevor
at No Alibis Bookshop, Belfast
SPECIALLY commissioned work by a well known Lisburn photographer has gone on show at an exhibition marking the 21st anniversary of the charity 'Help the Aged' extending its work to Northern Ireland.
The unique collection of photographs by John Harrison of personalities from the province was launched at Belfast's Ormeau Baths Gallery to celebrate the importance, diversity and strength of intergenerational relationship to society.
Rosemary Kelly, Chairman of Help the Aged in Northern Ireland explained the idea was to show many of the familiar faces photographed in settings very different to those in which people are used to seeing them. Referring to a picture of Ian Paisley she said: "This is no longer the First Minister, but a doting grandfather in his study with his grandsons."
Rosemary described a picture of Holywood actor Liam Neeson as "a son visiting home, and out to dinner with his proud mother. "We hope that, after viewing this exhibition, people will take time to consider and remember the contribution older people make to our society."
Liam Neeson said it had "been a pleasure to be a part of this wonderful exhibition.
"My relationship with my mother is of great importance to me: she has been a wonderful support throughout my life," he continued.
"Living quite a distance away, this bond has certainly been put to the test, but coming home and spending time with my mother still remains a priority for me."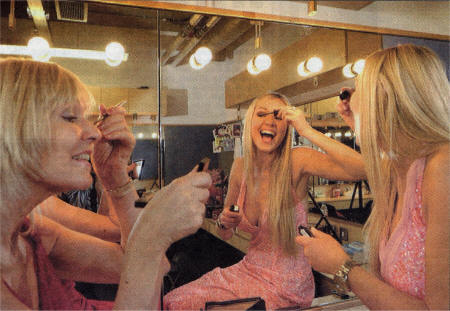 Zoe Salmon and her mum