JOHN RECEIVES THE FIRST COPIES OF `FOOTSTEPS ON THE SANDS OF TIME'
| | |
| --- | --- |
| | |
| John Kelly pictured with the book sponsor Mr Victor Hamilton, grandson of the late Very Rev Dr R W Hamilton, third Minister of Railway Street Presbyterian Church, 1885-1935, and Moderator of the General Assembly, 1924-1925. | At the handover of the book are L to R: Andrew Smyth - Studio Manager, Yvonne Campbell -Designer, John Kelly and Adrian Glenn - Managing Director of Impression Print and Design. |
FOUR years of hard work came to fruition recently for well known local man John Kelly when he took delivery of the first 1,000 copies of his new book about the history of Railway Street Presbyterian Church.
The publication of 'Footprints on the Sands of Time' has proved the perfect present for John's 60th birthday on Monday (December 1). It traces the story of the city centre congregation from its foundation in 1860 to the present day.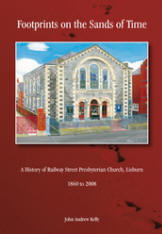 The book will be officially launched at a function in the Church Hall on Thursday (December 4) beginning at 7.30pm and will no doubt prove very useful to those planning the church's 150th anniversary celebrations in 2010.
John's work has been recommended to the 'widest possible readership' by Railway Street's Senior Minister and former Presbyterian Moderator Very Rev. Dr. Howard Cromie.
"We are deeply indebted to the author, John Kelly, for the graphic way in which he has recorded the rich and varied story of Railway Street congregation," he said.
"His careful research and skilful use of primary material sets the scene in the social and religious context of the wider community."
The Mayor of Lisburn Councillor Ronnie Crawford also paid tribute to John's work and described the book as 'an interesting and very informative read'. At the launch, Valerie Henderson will sing 'How Lovely is Thy Dwelling Place' accompanied on the piano by Dr. Bertha Cowan.
This has been chosen to remind those present of 'the beauty of the recently refurbished place of worship.
Noel McMaster of 'Bakerloo Junction' will recall the days of linen thread manufacture as he sings his new song 'Barbour Mill' in public for the first time. The inclusion of the song is intended to make people aware of the liberality of the Barbour family towards the erection of both the church and the EMB Hall at Hilden.
Noel will also sing two of his other compositions - 'Winds of Change' and 'My Lagan Softly Flowing'.
'Footsteps on the Sands of Time' will be available for purchase next Friday (December 5) at a cost of �5 at Vic-Ryn and Faith Mission (Lisburn) Bookshops and Smyth Patterson Ltd. The book can also be bought through Railway Street Church Office, Tuesday to Friday 10.00am to 12.30pm (Tel: 028 9260 2766) or ordered by post for �6 inc. p&p (�9 to the Republic) from The Church Office, Railway Street Presbyterian Church, Railway Street, Lisburn. BT28 1XP