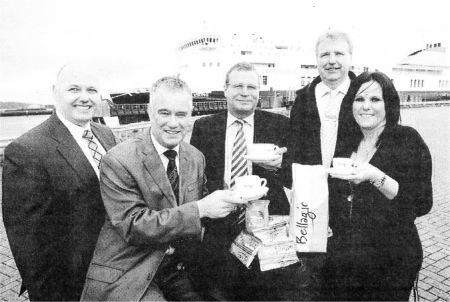 THE Director of Johnsons Coffee has said a contract to supply the beverage to one of the UK's major ferry companies has secured employment at the firm's Lisburn roastery.

Philip Mills was speaking after his company announced the major deal with Norfolkline which operates services on both the Irish Sea and English Channel including sailings between Belfast and Birkenhead.

"The deal also paves the way for further expansion into this market," Mr. Mills added. Johnsons Coffee imports Arabica coffees from around the globe and will supply Norfolkline with Bellagio Espresso Beans and Johnsons Filter Coffees to serve in the lounges onboard their vessels.

Staff on the ships will be trained to Speciality Coffee Association standards to ensure the high quality of the coffee is preserved.

Kell Robdrup, Director of Norfolkline Ferry Division said they were "extremely impressed not only by the product quality but also by the comprehensive knowledge Johnsons will bring to his company's beverage offering.

"Norfolkline passengers will appreciate this investment in quality coffee and quality service," he added.

Maynard Mawhinney, Director, Food Division, Invest NI, said his organisation had facilitated a number of meetings in recent months between Northern Ireland companies and major foodservice providers outside the Province.

"This contract between Norfolkline and Johnsons Coffee is tangible recognition of the quality of the product and services that our local companies provide," he added.