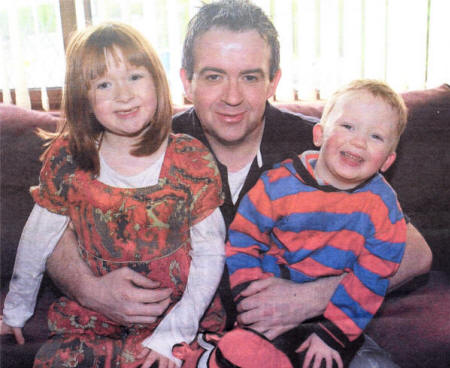 Jonny Stevenson back home with his children Sophie and Luke after reaching the finals of Masterchef. US1008-528C0
LISBURN man Jonny Stevenson narrowly missed out on the prestigious Masterchef title but his dream of opening a top restaurant is looking very promising.
In the competition's final last Thursday night Jonny Stevenson came agonisingly close to taking the title on what the judges said was the best ever competition.
The finalists - including the Lisburn father-of-two - faced some of the toughest challenges yet as they battled it out to win the competition.
Up against two other food enthusiasts -18-year-old student Emily Ludolf and 33-year-old former legal eagle James Nathan - Jonny eventually lost out to James.
The aspiring chef is hoping that his success will help him fulfil his ambition to open up his own restaurant and judging by the current careers of the programme's previous finalists, he is already well on his way to making his mark in the culinary world.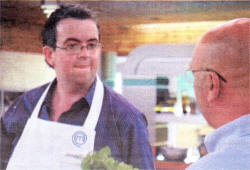 He said: "After appearing on the radio I got a call from a businessman offering me a chance to get involved in a great food project in Belfast. It is definitely something I am interested in. I have to stay true to what I want to do and that is work in a bistro using classic French techniques."
Jonny also emphasised that he wants to give local people a chance to enjoy excellent food without an expensive price tag.
"Belfast is so over priced and I want to get away from that. I don't think you have to pay over the odds for good food."
After the winner was announced Jonny said that his fellow contestant James - whom he has become good friends with - rightfully walked away with the Masterchef title.
"He deserved to win as he didn't make any mistakes along the way. I watched the show with James who has become one of my best mates and I hope to go and visit him soon in Spain."
Jonny described the whole experience as a 'bit of an emotional rollercoaster', but well worth the effort.
With the show being pre-recorded he had to keep under wraps how well he had done and now feels 'a big weight' has been taken off his shoulders.
He said he hopes his story will inspire others: "I do feel proud of what I've achieved. Hopefully, it can inspire other parents out there to think that they too can achieve their dreams as well as bring up their children."