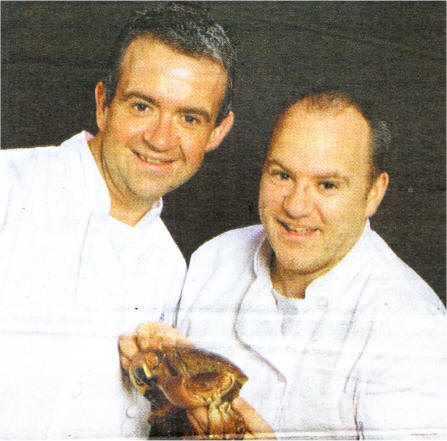 Masterchef runner-up Jonny Stevenson and Stephen Jeffers.
MASTERCHEF runner-up Jonny Stevenson has taken up a job with a Bangor restaurant.
The Lisburn father of two decided that not only did he wish to follow a career with food, but he wanted to open his own restaurant, either in his home town of Lisburn or in Belfast city centre.
But Jonny realised that, whilst he had certainly learnt a lot during the process and had significantly polished his culinary skills, working in a busy professional kitchen and running his own restaurant would be a totally different matter - he needed to get some hands on experience, preferably in a thriving restaurant which served the same style of cuisine that he liked to both cook and eat and had a similar philosophy towards food. After looking around the local restaurant scene, Jonny approached Stephen Jeffers the chef owner of Jeffers by the Marina, an upbeat modern eatery in Bangor, who readily agreed to let him join the Jeffers team.
Jonny explained: "The Masterchef experience was absolutely brilliant and it totally reinforced my dream to open my own restaurant, but that was just the beginning.
"The competition was exhilarating and at times gruelling, but the real work starts now. Working at Jeffers has been fantastic so far. I am learning so much from Stephen which is great because ultimately I would like to emulate his style of cooking."
Proprieter Stephen Jeffers commented: "I was thrilled when Jonny approached me for experience.
"From the short time Jonny has been working with us I can see why he did so well. He has a natural flair for ingredients and flavours and an inherent understanding of food.
"He is also incredibly enthusiastic and obviously passionate about what he is doing and he shares my philosophy that a chef should always use seasonal, local produce. I'm confident that one of these days he will actually be in competition with me."
Stephen and Jonny have already planned a special Gourmet Evening at the restaurant this summer which will showcase some of the dishes Jonny prepared throughout his Masterchef journey.