Quake terror
by Julie Ann Spence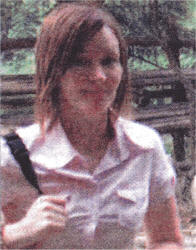 A LISBURN woman left the capital of Sichuan province in China just two hours before the devastating earthquake which has left 70,000 people dead.
Justine Holland, 35, had left the Chengdu Panda Sanctuary, where many people are still missing, but it was 48 hours before her frantic family received word she was safe.
The small cities and towns amid steep hills north of Sichuan's provincial capital of Chengdu have been completely flattened in the earthquake.
Justine, a former pupil of Killowen Primary and Laurelhill Community College, has just begun a worldwide tour after retiring from the Navy two years ago.
She began her year-long round-the-world trek in China at the start of May and was in the Chengdu region when the earthquake hit last Monday (May 12).
Her father, Phil Holland, said her family were frantic with worry and just couldn't believe what was happening. "It was only when I looked at the map of their route that I realised that was where she. was that day. As the casualties got greater and greater I feared for her life," he said. "Justine does a lot of charity work for World Vision and she wanted to get involved in charity work in Asia so I knew she would be off the beaten track and in the local communities there. When I heard what happened, I knew she wouldn't be too far away.
"I had been reading her online diary and sent a couple of emails but we didn't hear from her for a couple of days. I was frantic with worry."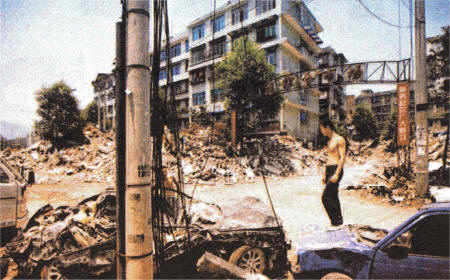 An earthquake survivor stands on a car among the rubble of a collapsed building following powerful earthquake in Dujiangyan, southwest China's Sichuan Province.
`Do you think someone is watching over me?'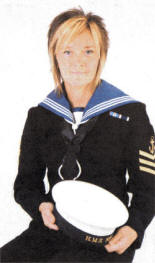 LISBURN woman, Justine Holland has spoken of her lucky escape from the devastating earthquake which hit China last week and has left at least 70,000 people dead.
Justine, emailing from China, explained what happened during those fateful few days and told of just how lucky she was to survive. "Luckily, we went to the Panda Sanctuary in Chengdu, which is 100km from the earthquake epicentre and also badly affected, in the morning and left there at 12.30 to move southwest to Leshan to climb
the Big Buddha, which is the biggest in the world and 250km from the epicentre," explained Justine.
' We arrived there at 2ish and sat down in 'Davy's Cafe' for some lunch before our planned climb. Just as we all ordered, at 2.28 we heard the screams that there was an earthquake and Terry, our Intrepid Tour leader shouted for us to get out.
"The whole thing was pretty surreal really, I remember looking at him and having a delayed reaction, his words didn't function in my head. "Then I looked at the window and saw so many people looking up above where we were sitting, and my immediate reaction was that the
building was about to collapse. So obviously, I couldn't have gotten out of there quick enough and ran far enough to clear the building.
"And that's when I felt the ground trembling beneath me. Everyone was just running and a bit in shock I think, like it wasn't really happening.
"When we stopped, it was like we couldn't take in what was happening, I guess because we were not aware of the extent of the quake. I'm sure we were all as scared as each other and questioning ourselves about what was happening, if we were going to die. It is hard to explain the feeling, but luckily the building didn't collapse and we still had our lunch outside.
"We were told we couldn't climb the Buddha and everyone had to get down from the mountains. So we got on a river boat and went to see it. Whilst we were on the boat, they had another hit from the quake, but luckily we didn't feel it.
"We were also due to stay in a monastery for three nights but those plans all had to change as a few of them had collapsed. We were due to climb Mount Emei but we just went to Emei and stayed in a hostel overnight before assessing the situation the following day.
"No-one anywhere would go into any buildings, as the quake was pretty ongoing all day. So our tour leader wanted us to camp out in the park, but he had the last tent in the shop!
"We did have a government warning that we may be hit again between 9.30-2am, so no-one was to stay indoors. So we had an earthquake camp in the park with all the thousands of other people.
"The following day, we were told we had to leave the province immediately as they were closing all the roads. We had to cut short our plans and headed to Chongqing a few days earlier than expected.
"As we were leaving Emei, again the place got hit, and we saw so much devastation everywhere, no signs of trapped people or anything, but apparently as we were surrounded by mountains that is what saved us. "We were on a bus for approx 7 hours from Emei to Chongqing and the driver fell asleep! He would've been up all night from the earthquake and then had apparently driven for 6 hours before picking us up, but luckily two of our group were awake to realise he fell asleep -think someone is watching over me? "Today is our third day that everywhere is in mourning and having minute silences at 2.28, and all entertainment etc have ceased for 7 days.
"I can't believe how lucky I've been and missed so many hits. I really wanted to stay in Chengdu, but glad I left when I did or I wouldn't be here I'm sure. It's really sad at the death tolls are rising each day."
The Star will be following the progress of Justine's journey as she travels through China, Vietnam, Cambodia, Thailand, Laos, Malaysia, Indonesia, Australia, New Zealand, Fiji and the United States.