by JULIE-ANN SPENCE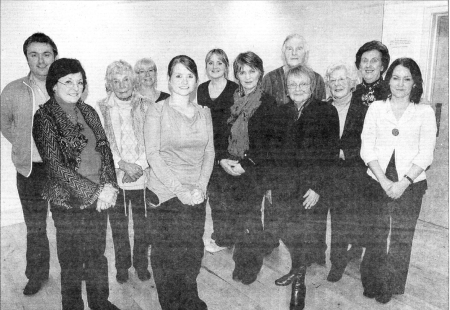 Karen Fortin with members of the Lisburn Arts Advisory Committee.
LISBURN Arts Advisory Committee are delighted to announce Karen Fortin as the winner of the first annual Young Artist Award.
This new award is aimed at nurturing and supporting talented local young people aged 16-25 in pursuing excellence in their chosen field.
Karen heat off the competition to secure the 2008 title and the £1000 award by greatly impressed the Committee with her commitment and dedication to her studies.
Karen is currently the only Northern Irish student at The College of Dance outside Dublin where she is completing a foundation dance course with the aim of continuing to degree level in London.
She began her dance studies through ballet with Jennifer Hall at the age of 3 and has since gone on to study many different forms of dance including jazz, tap and contemporary.
She has appeared in many local stage productions at Island Arts Centre and the Waterfront Hall and is also involved in teaching dance to younger children.
A spokesperson for the Lisburn Arts Advisory Committee said: "Lisburn Arts Advisory Committee are delighted to be supporting Karen at this exciting point in her career and look forward to awarding many more young artists in the future."
For more information on LAAC Arts Grants and Bursaries please contact Lynda McCord at Island Arts Centre on 028 92 509 509 or email lynda.mccord@iac.lisburn.gov.uk.