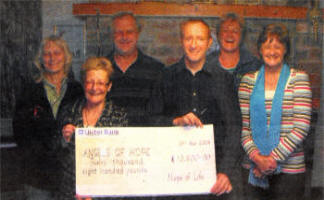 FIFTY ladies and their tractors have raised £12,800 for an ovarian cancer charity during a road run organised in memory of a Hillsborough woman who died of the 'silent killer'.
The run which took place in June was organised by friends and family of the late Mrs. Helen Megarry who put up a courageous battle before tragically succumbing to the illness last year.
It was followed by a barbeque attended by 300 people and the proceeds have now been presented to the Northern Ireland based organisation 'Angels of Hope.
This charity's aims are as follows: to raise awareness of ovarian cancer; improve knowledge among the general public and the medical profession; fund vital research and
provide a link between sufferers, survivors and families
The organisers of the road run have thanked everyone who helped raise what they described as an amazing amount of money' including the ladies who did the driving; the sponsors of the barbeque and auction; the people who attended the event and everyone who helped in any way.