by NEIL GREENLEES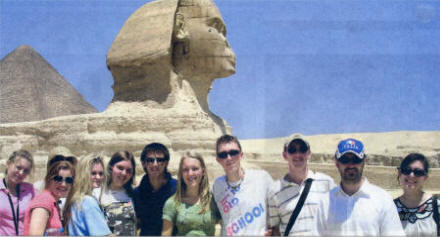 A PARTY of young people from Hillsborough Parish Church experienced life as part of Egypt's Christian community recently when they spent a week in the 'Land of the Pharaohs'.
The young people, led by Youth Minister Johnny Beare, helped a team of Sunday School teachers run a daily Children's Camp at the Port Said church of Pastor Raj.
The Pastor, who has spent time in Hillsborough with his wife Premilla, is an old friend of the parish.
Mr. Beare said sadly the group was left with the impression Christians were at times 'not treated very well' in Egypt.
"Often they are overlooked for the better jobs and housing, and in some cases persecution can be quite severe," he continued. "The team were challenged by the strong faith of believers despite these very difficult situations.
"Many stories of faith in the face of persecution challenged and humbled us as we thought about the freedom we so often take for granted."
Minister
The Youth Minister also said Egyptian Christians had a 'strong faith' which was especially evident among very young children.
"It was amazing to see God unite us as a team, despite the cultural and language differences," he added. "It was also a joy and privilege to spend so much time with Raj and Premilla. They are a truly inspirational couple.
Of course no trip to Egypt would be complete without a visit to the famous pyramids and enigmatic sphinx at Giza on the outskirts of Cairo.
The party enjoyed a fascinating visit to the site which is one of the Seven Wonders of the World.
They also spent time in Coptic Cairo, a part of the city which encompasses the Babylon Fortress, the Coptic Museum, the Hanging Church, the Greek Church of St. George and many other Coptic churches and historical sites.
The Ben Ezra Synagogue, Egypt's oldest dating back to the Ninth Century, is located in the area.
Group
The world renowned Ain Shams University was also on the group's itinerary as was a sobering visit to 'Garbage City' originally manned by the `Zabaleen' or 'Garbage People'. There was also a trip to the port of Alexandria on the Mediterranean Sea.
Added to all of this, Mr. Beare said, the young people had simply enjoyed meeting the Egyptian people and experiencing their culture and food. "Thank you to everyone who supported the team financially and in their prayers. Without you the trip would not have been possible," he concluded.