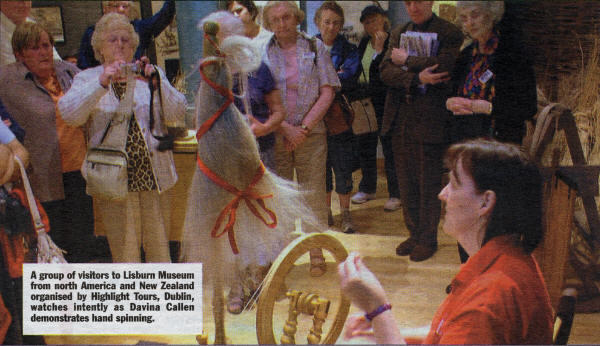 A group of visitors to Lisburn Museum from north America and New Zealand organised by Highlight Tours, Dublin, watches intently as Davina Callen demonstrates hand spinning.
Favourite with the tourists
LISBURN Museum is visited by many people from abroad throughout the year.
Some tour companies book their groups year after year while there are always new tour companies making reservations for the first time.
Most visitors are very impressed with what they see on show and leave quotes in the visitors book such as 'I really enjoyed all my tour.
Others described the Museum as 'fascinating.
Jewels - Past and Present' on display in gallery
The Irish Linen Centre & Lisburn Museum is well known for its exciting programme of exhibitions and events and summer 2008 is proving no exception.
A new exhibition entitled 'Jewels Past and Present' has been set up in the ground floor market house gallery.
Part of the Ulster Museum's outreach programme, the exhibition shows historic and contemporary jewellery with a touch of sophisticated style.
With the official re-opening this week of the nearby newly restored Castle Gardens in Lisburn's Historic Quarter, there's a small exhibition entitled The Castle Gardens Story' now on display in the Museum.
Some of the interesting finds from the archaeological excavations during the five year restoration project are also on display.
These include pieces of 17th century German pottery, decorative tiles and a decorative shoe buckle. Display panels are also on show at the Castle Gardens Welcome Point.
Midsummer Fayre in Gardens
THERE was a whole day of free fun for all the family at the Midsummer Fayre in Castle Gardens last Saturday.
Traditional music and jazz formed the background to magicians and punch and Judy shows while the pig on a spit and the specialty food market tempted people's tastebuds for samples to indulge.
The only thing missing was the sun as the weather didn't provide a repeat performance of the previous weekend's glorious conditions.
However, despite the rain the day proved a success and everyone went home well fed and happy.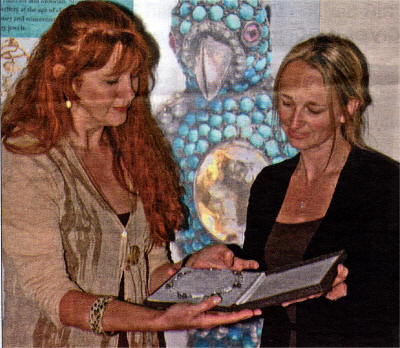 Elise Taylor, Ulster Museum and Elaine Flanigan, Keeper of Collections, Lisburn Museum discussing the exhibition 'Jewels - Past and Present', part of the Ulster Museum's Hull Grundy Collection which is currently on display at Lisburn Museum.
Ulster Star
27/06/2008