by STACEY HEANEY
stacey.heaney@jpress.co.i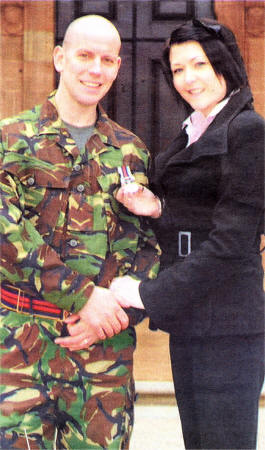 Lance Corporal David Holdsworth with his wife Alison who was on hand to add her congratulations after the ceremony.
TA soldier receives his medal from army chief
A LISBURN soldier has spoken of his pride at serving his country in Afghanistan after he was honoured at a ceremony in Hillsborough Castle.
Lance Corporal David Holdsworth, a member of the Territorial Army, was recognised with the presentation of an Operational Medal for his service with Operation Herrick by General Sir Richard Dannatt.
David, 33, who previously worked in Lisburn City Council's Leisure Services Department, has served with the TA for just over three years.
Having previously been deployed to Kenya, Germany and various parts of Europe; David took part in his first mission in a war zone when he joined Operation Herrick in Helmand Province last year.
David explained: "I joined as a regular soldier after leaving school and had gone to Kenya and across Europe but I had never been on an operation."
However, last year David had the opportunity to go to the region where he worked as both gunner and driver, helping to keep isolated forward operating bases supplied with essential services and ammunition.
"It was very daunting going to Afghanistan, anybody who says it's not is telling fibs. At the same time I was looking forward to it, to be able to put my skills into practice.
"I had seen it on the news and read about it in papers so I was also full of pride to be going and doing something there."
David, who is married to Alison and has three young children, continued: "The hardest part was leaving my family. They are the ones who keep you going but we kept in touch with letters and emails and phone calls. You really look forward to coming back from a couple of weeks in the desert to getting a phone call, but it is equally hard for anybody who is left behind."
David left his Lisburn home in January 2007 to go to England for training before spending six months in Afghanistan, returning in September.
He explained, "I was in the Force Protection Troop, with the Four Logistics Support Regiment and was deployed all over Helmand Province carrying out different tasks. I was with the Royal Marines, the Artillery and the Pioneers, so it was very varied. It was a good experience to see the whole thing."
Being deployed in one of the most dangerous parts of the world is obviously not without risk.
"We got mortared a few times and got shot at. The scariest time out there was one my last mission, the day before I was due to leave, when a company got hit by a suicide bomb. It hit the convoy in front so we could see the whole effects but we just had to drive through it, that's something you learn; if something happens you just have to keep going."
David said he wouldn't rule out a return to Afghanistan, explaining that he had made some life-long friends from his experience.
"I feel very proud to have served my country,' he said. "There are kids out there at 18 and 19 doing exactly the same job and I found that awe inspiring.
"Being there was some of the best times and some of the worst times the scariest thing that you could do nothing about were the road side bombs. You have to be vigilant, you don't want to be driving over a mine so it is always in your mind, but if something happens your training kicks in and you just keep going."
David says his time with the TA has given him life lessons which he will always remember.
He said, "If anybody was interested in the TA it gives you great opportunities to see countries you normally wouldn't and to learn some important life skills."