Society enjoys talk about Smithsonian Folklife Festival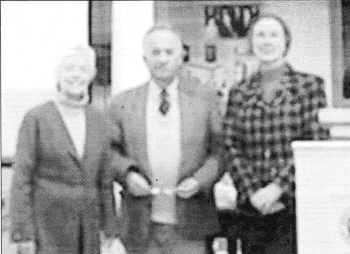 Olive Campbell and David Twigg, Lisburn Historical Society, with Valerie Adams, PRONI, whose recent presentation to the Society on the Smithsonian Folklife Festival, 2007, was greatly enjoyed.
LISBURN Historical Society held its March meeting in the Museum's Assembly Room last Wednesday (March 5).
The speaker was Valerie Adams, of the Public Record Office in Balmoral Avenue who gave an extremely interesting account of the Northern Ireland programme at the Smithsonian Folklife Festival held in Washington DC during summer 2007.
The programme included performers and experts on all aspects of culture and heritage in Northern Ireland and Valerie spoke about the large numbers of visitors to the Festival who were interested in discovering more about their Irish 'roots'.
The next meeting of the Society will take place on Wednesday April 9 at 7.30pm. This will feature a talk on The Castle Gardens Restoration Project'.
---
New jewellery range on sale at museum shop
A NEW range of designer jewellery is currently being launched at Lisburn's Museum and Irish Linen Centre Shop.
Anyone seeking a tasteful gift for that special someone should take a look at Carrie Elspeth's exclusive 2008 designs.
There's something for everyone, including brand new eco-themed natural designs using recycled glass, colourful semi-precious stones and beautiful wooden beads. Also being launched are Carrie's new glamorous ranges featuring the sparkle of crystals and satin pearls.
A Museum spokesperson said these were 'perfect' for weddings and parties.
"If you want beautifully handmade jewellery using fresh spring colours, delicate hearts and a multitude of eye-catching, elegant designs then look no further," she added.
The shop is generally very well stocked at present in readiness for an increase in visitor numbers as winter gloom is replaced by early spring sunshine.
Readers will enjoy the wide selection of new Irish fiction as well as books on the Titanic and on Irish food and cookery.
"There's also a good choice of Irish Linen which is always popular as an heirloom gift," the spokesperson concluded.
---
New exhibition to open in Ground Floor Gallery
THIS month's museum competition is based on an exciting new exhibition which will open in the ground floor gallery tomorrow (Saturday).
'Curators Choice' will feature a wide selection of objects, paintings and posters including some which have never been on display before. Others are old favourites of museum visitors. "Everyone should see something pleasing which catches their eye," said a Museum spokesperson.
The winner of the competition will receive a £25 voucher.
All you have to do is answer the following question: 'What colours are the hat of the Hillsborough Warder whose portrait is on display in the exhibition?'
Entry forms can be collected from Museum reception staff and returned to them no later than Thursday March 27.
The winner's name will be drawn from the correct entries submitted and will be published in the Ulster Star.
---
`Great Easter Egg Hunt' at Castle Gardens
THE newly renovated Castle Gardens will be the venue for a 'Great Easter Egg Hunt' on Easter Tuesday (March 25).
This will take place between 2.30 and 4.30pm. A Museum spokesperson promised 'free fun for all the family'.
Castle Gardens are open from 8am-5pm daily. These hours will extend to 8pm at the beginning of April.
Children aged five to 12 are also invited to enrol in the Museum's Easter Workshops which will take place from Tuesday March 25 to Friday March 28.
More details on the workshops and the Easter egg hunt can be obtained from Museum reception staff on 9266 3377.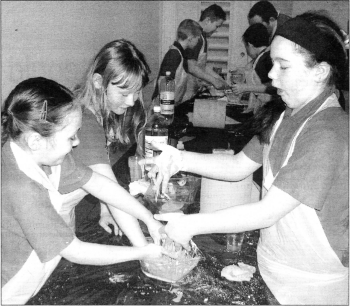 Primary Six pupils from the Bunscoil in Belfast make coloured slime as part of their experiments with water during Science Week (March 10 to 14) at the Irish Linen Centre and Lisburn Museum.