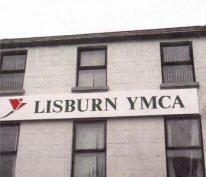 THE history and heritage of a building in Lisburn's Historic Quarter is to be explored in a new project.
Lisburn YMCA has been awarded a Heritage Lottery Fund (HLF) grant of £23,400 to examine the heritage of the 100 year old Market Street building in which they are based.
A group of ten young people aged between 15 and 16 will research and interpret the changing history of the building which has been the home of Lisburn YMCA for the past twenty years but was formerly a shop, a bar and a home.
They will investigate this varied history in terms of the building's use and the people using it.
The young people will lead the project themselves and play a key role in the decision making process but they
will receive training in research and recording techniques and support throughout the project from Lisburn Museum.
COLLECTING
The group will be collecting photographs, artefacts and stories relating to the building which will be used to produce a final exhibition which will be displayed in venues across the city. A booklet, DVD and website will also be produced to help conserve this heritage and share the findings with the whole community.
Kevin Hughes of Lisburn YMCA said: This is an exciting project for the young people of the YMCA as well as all the staff. We are looking forward to seeing what we will discover about the building and its previous users." Funding for the project was awarded under the HLF 'Young Roots' programme which provides grants of up to £50,000 for projects that involve young people aged between 13 and 25 in developing and leading heritage based projects that are important to them.
Head of HLF Northern Ireland, Paul Mullan, said: "The young people participating in this project will not only contribute to the social history of Lisburn but through their involvement they will learn a range of new skills and develop their leadership abilities and confidence, and we are delighted to be involved."