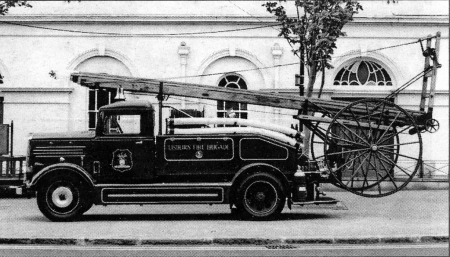 The 1938 Dennis fire engine used in the film 'Closing the Ring', photographed outside Lisburn Museum.
FILM stars are normally reluctant to reveal their true age but a Lisburn 'grande dame' who featured prominently in a recent Holywood production shot on location in Belfast is unlikely to mind anyone knowing she celebrates her 70th birthday this year.
Indeed, Lisburn Museum's shiny red 1938 Dennnis Fire Engine is four years younger than the other star of 'Closing the Ring' Hollywood veteran Shirley MacLaine who attended the film's Belfast premiere recently along with its Director Sir Richard Attenborough.
The plot centres around a local man's search for the rightful owner of a ring found at the site of a Second World War US Air Force plane crash on Cave Hill in 1944.
Lisburn Museum was approached for advice and assistance about making the movie as authentic as possible and fire engine DZ6866 was provided under strict guard.
In the film it is seen rushing through Belfast's streets on its way to the scene of the crash.
This must have been a case of 'deja-vu' for DZ6866 as it saw real service during conflict when Belfast was bombed by the Luftwaffe in 1941.
---
| | |
| --- | --- |
| | Take your chance to view some historic film images |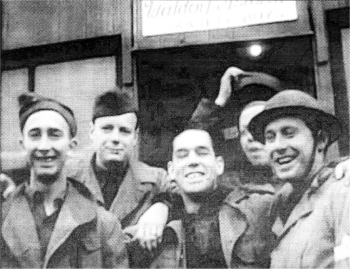 American soldiers in Northern Ireland during the Second World War.
LISBURN Museum is one of a number of selected locations throughout Northern Ireland to offer a library of film images about the province from the beginning of moving film in 1897 right up to the year 2000.
These belong to the Digital film Archive produced by the Northern Ireland Film and Television Commission and the extracts, compiled by decade, are listed under topics such as newsreels and sport.
For example there's a 1940s news item about American soldiers in Northern Ireland and a 1982 transport feature about the De Lorean car which was manuctured at Derriaghy. Anyone can view the Archive at any time during Museum opening hours. The Museum cannot print any of the film material or make copies of it as it is the property of NIFTC
---
Historical Society prepares for second meeting of 2008
LSBURN Historical Society will hold its February meeting in the Museum on Wednesday (February 6) at 7.30pm.
The speaker will be Colonel Robin Charley whose topic will he 'The Order of St. John'. Anyone wishing to attend will be made very welcome.
The Society began 2008 with a 'Members Night' in the Museum on Wednesday January 9 when those attending brought along 'objects of interest and curiosity' for display and discussion.
Curator Brian Mackey and Museum Services Manager Paul Allison were on hand to add their 'expert' opinions.
Several interesting objects were produced including an early Belleek dinner plate, a piece of petrified wood from Lough Neagh and a trench periscope.
One of the more obscure items was a navigational instrument known as a station pointer which was used to plot accurate locations on charts for coastal navigation or surveying.
Many of those present felt this was a much more elegant piece of workmanship than the satellite navigation system which has replaced it.
There was much lively debate about some of the items as their histories and ownership were recounted. Museum staff would like to thank everyone who entered into the spirit of the evening.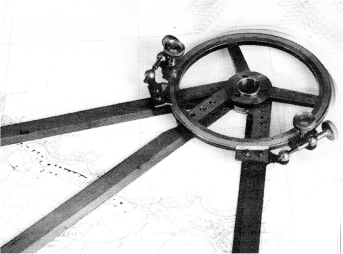 The mid 19th century brass navigational instrument known as a station pointer which was admired at the Historical Society's Members Night. It was marked 'Ballast Office, Dublin' and was used to accurately determine a position on a navigational chart by using the arms to measure the angles between landmarks and transferring their positions to the circle on the station pointer. With the arms clamped, the station pointer was placed on a chart and the required location could be read off in the centre of the circle and marked on a chart.
---
Murder Mystery evening proving popular
TICKETS are already selling well for the period costume 'Murder Mystery Evening' to be held at the Museum on Wednesday February 13.
This will involve dubious characters skulking in the 18th century Assembly Room and the tickets cost £10 including a buffet supper.
Anyone wishing to attend should call at Museum Reception or telephone 9266 3377 for further details.