by NEIL GREENLEES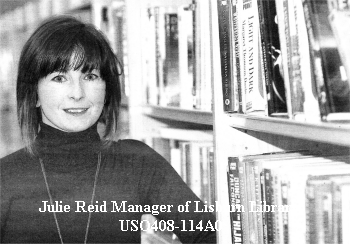 IT took almost three decades for the vision of those who wanted a new library in Lisburn to become reality but the state of the art building which now stands in Linenhall Street is a fitting tribute to their tenacity and sense of purpose.
Likewise, its high level of usage and wide range of facilities is proof of the hard work and commitment put into its development by Branch Manager Julie Reid and her 22 members of staff
Indeed, its success was acknowledged recently by Arts and Culture Minister Edwin Poots who is also a Lisburn Councillor when he opened the exhibition 'Hidden Connections' in the building.
He revealed the Library was at the top of Northern Ireland's lending league and said it was 'one of the busiest' in the province. The Minister's comments came just before Christmas as the library celebrated the second anniversary of its opening.
Looking back over two years of continual development Manager Julie, who travels to Lisburn every day from her home in
Dundonald, recalled how her appointment to the position really was 'a dream come true'.
She explained she jumped at the opportunity which arose as Bangor Library, where she was previously employed, was preparing to develop along similar lines to the Linenhall Street site.
She is now in charge of a library covering an area of 2000 square metres which makes it one of the largest in Northern Ireland.
"The aim is to provide a welcoming space in which members of the public can spend a lot of quality time," she said.
"They can use a computer, enjoy a snack and a drink and read a newspaper or book."
The library's computer suite offers as many as 50 terminals on which members can obtain free access to the internet.
They can also use their home computers to access electronic reference sources.
Printers and scanners are available as is a fax service.
An adult reading group currently meets at the Library on the second Thursday of each month. These meetings will continue until June.
The Library's involvement with the community also developed further at the start of the Autumn when the Health Centre Baby Clinic began to meet there on Mondays.
This will continue until the end of March.
People visit Lisburn Library from many areas of Northern Ireland. This has been facilitated by the introduction in recent years of a system which allows items borrowed within
the Northern Ireland library system to be returned to any library in the province.
Julie also revealed the number of original item issues being made at Linenhall Street has grown by almost 60 per cent during the two years the library has been opened.
"During the period 2005/2006 we made around 155,220 original issues. This grew to 243,099 during 2006/2007," she said.
Library opening hours are 9am to 8pm on Mondays and Tuesdays; 12noon to 10pm on Wednesdays and 9am to 5pm on Fridays and Saturdays.
There is also a large exhibition space and a community meeting room.
The bookshelves are well stocked and offer a wide selection of large print editions as well as 'talking books', CD's and videos.