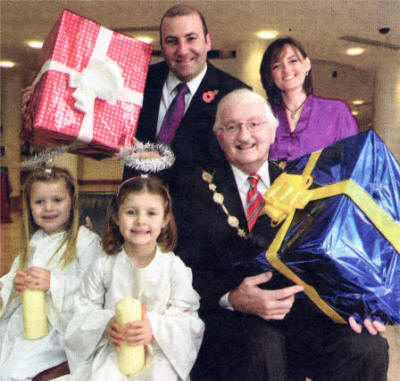 THIS year's Christmas Switch-On in Lisburn city centre will take place on Friday November 21 with the theme 'White Christmas'.
The event, which was launched this week, will see a glittering array of performers and local school children parade through the city to kick-off the Festive Season in Lisburn.
Lisburn City Council said it was delighted to welcome Sprucefield Park on board as main sponsor of the Switch-On.
The Mayor, Councillor Ronnie Crawford said: "The event is a showcase for our residents at Christmas-time and I welcome our main sponsor onboard in our efforts."
The Council is working with local schools and said it was delighted to have around 150 children carrying handmade lanterns to the parade and 30 glittering angelic creations.
Among other attractions, the spectacular Ice-Queen will make her appearance with white-clad festive stilt walkers, a White Fairy, Jack Frost, roller skating Christmas Snowmen, Christmas Puddings, Christmas Baubles and a magnificent White Christmas Tree on stilts. Santa of course is arriving in his specially commissioned train to make sure to wish young children a Happy Christmas.
Mr Crawford also said: "I welcome the continued support of the Ulster Star in
the Christmas Switch-On event and we look forward to working with them. I hope the event enjoys good weather and look forward to a spectacular night."
The parade will wind its way through Market Square and Bow Street to see the Mayor switch on Lisburn's
festive Christmas lights. As usual the event is expected to be very busy so the advice is to arrive early. The event begins at 7pm.