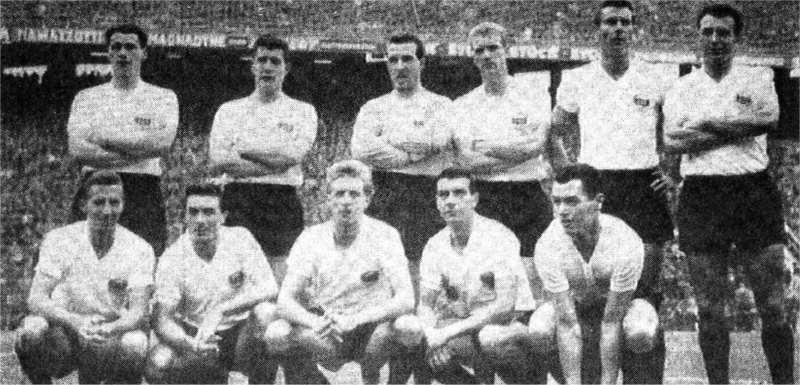 The 1960 Football League side which lost 4-2 at Milan. Jimmy Mcllroy (Burnley) is front row, 2nd left.
STAFF at Lisburn Museum are keen to obtain as much information as possible about two of the city's sporting heroes.
Soccer legend Jimmy Mcllroy grew up in Lambeg. He started his football career with Glentoran and was just 18 when he received an offer from Burnley.
By the time the Lancashire side won the League during the 1959/60 season he was a household name. He was still with the team when they reached the 1962 FA Cup Final against Spurs and played in a number of European competitions.
Jimmy transferred to Stoke City before going into management. He is now retired and still lives in Burnley.
A century ago in 1908 London was the chosen venue for the Olympic Games. A biography is currently being prepared of Harry Mussen, a champion cyclist from Dunmurry who competed in the Mens 100 kilometres event.
It was one of seven track cycling events and covered the longest of the individual event distances. The time limit for the race was three hours and 15 minutes. Of the 17 finalists, nine, including Harry, failed to finish.
The event was won by Charles Bartlett of GB in 2.41.48.6 at an average speed of 42 kilometres per hour. His success came just 20 years after 'penny farthing' cycles were superseded by the type of machine still in use today.
"Sports and sportsmanship is very much in the air with the recent spectacle of the Bejing Olympic Games and the media discussions of the Games in London 2012. Here are two local sporting characters we would like to know more about," said a spokesperson.
Lisburn Museum is interested in the memories of local people who grew up in Lambeg/Ballyskeagh alongside Jimmy Mcllroy during the 1930's and 40's as well as any information available about Harry Mussen.
If you can help please give them a call on 92663377 or email: info@lisburn.com