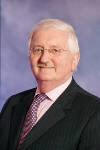 THE Mayor Councillor Ronnie Crawford has warned Lisburn's citizens they face the 'double whammy' of losing city status and becoming part of the second smallest council area in Northern Ireland if recently published recommendations for the future of local government in the province go ahead.
Mr. Crawford has urged 'every facet' of Lisburn society to respond to the Local Government Boundary Commissioners' proposals before the deadline of November 12.
He has also written to Environment Minister Sammy Wilson asking him to confirm he will not sanction any boundary changes which could result in the loss of Lisburn's city status.
In his letter Mr. Crawford pointed out all parties had been united in seeking city status which the Queen had bestowed.
The Mayor explained he feared the loss of the Dunmurry Cross Ward to Belfast City Council would put Lisburn in danger of suffering the same fate as Rochester in Kent which, he said, was declared a city in the 13th century but lost this status in 1998 when local government in the area was re-organised.
Mr. Crawford said Rochester's status could have been protected had the city appointed 'Charter Trustees'. However, this was not an option in Northern Ireland as the necessary legislation did not exist.
The Mayor also pointed out the proposed Lisburn and Castlereagh 'super council' would have a population of just 128,237, less than the proposed Mid-Ulster administration which would cater for around 129,522.
Only the proposed Fermanagh Council area, at 111,600, would be smaller.
Belfast with a population of 317,699 would remain the largest local government area. Mr. Crawford blamed this on the terms of reference given to the Commissioner by former Environment Minister Arlene Foster.
"She recommended 40 seats for all councils except Belfast which she suggested increasing from 51 to 60," he said. "Lisburn and Castlereagh currently have 53 seats between them and the case needs to be made for them retaining all those seats as agreed by Lisburn Council."
The Mayor also felt Belfast City Council had 'ambitions to take over all of the Belfast Metropolitan Area' including Lisburn and Castlereagh.
As evidence of this he pointed to Belfast City Councils 'State of the City' development brief of October 2006 which stated the Belfast local authority should 'include a much wider area than at present and possibly the whole BMA'.
Dunmurry residents set to appeal boundary proposals
DUNMURRY residents are set to make an appeal to the Boundaries Commissioner in an attempt to keep the village within Lisburn City Council.
This follows a public meeting organised at short notice by Dunmurry Community Association last Thursday evening in St.Colman's Parochial Hall to discuss the proposed changes to Council boundaries.
Around 100 residents and local representatives attended as a strong case was made for Dunmurry to remain with Lisburn.
Spokesman for the Community Association, Billy Thompson, commented; "Most people feel a traditional, historical and personal link to Lisburn.
"Dunmurry Village has a distinct identity that is separate from Belfast, which would be lost within the urban sprawl of Greater Belfast."
Concerns were voiced as to the final usage of council property, including the small parks and the sports grounds, if ownership transferred to Belfast Council.
Mr Thompson said: "These changes, if implemented, will have serious impact on Council facilities, amenities, and services in the Dunmurry area. There will be no guarantee of continuation of council provided services, and we would move from one of the lowest rated areas to one of the highest in Northern Ireland.
"Full support was pledged to the community in its effort to stay within Lisburn by all councillors present, including Mr Donaldson MP, who said that he was proud of his links
with Dunmurry."
A resolution was passed unanimously to appeal the proposal that Dunmurry transfers from Lisburn Council to Belfast Council and it was decided that a letter should be produced for residents to sign stating reasons they do not want the boundary transfer.
Mr Thompson continued: "This is a community driven appeal and supported by the two local community groups, Areema Residents & Dunmurry Community Association. "The letters will be delivered by the two community groups. Also they can be obtained in the local post office or Dunmurry Community Centre Office (Monday 10am — 12pm or Wednesday 10am -12pm.) They must be returned by November 5."