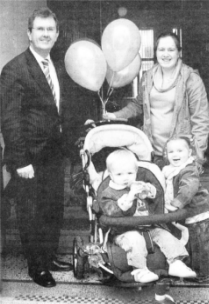 A BALLINDERRY woman who lost her still born baby three years ago is holding a special balloon release event for all those who have lost babies.
Helen Savage is encouraging anyone who have lost a child during pregnancy, at birth or afterwards to go along to the event this Sunday at Belfast Castle.
Helen, founder of the charity Life After Loss, will be joined by members of SANDS, Remember our Child and the Miscarriage Association at 3pm in the event which is supported by MP Jeffrey Donaldson among others.
From 3pm in the Donegall Room at Belfast Castle, free tags will be offered for people to write a special message and attach it onto the balloon. Then at around 1000 balloons will be released.
The event will also be a chance to meet other bereaved parents for a chat.
Helen set up Life After Loss in 2007 in memory of her son Samuel who was stillborn due to a group B strep infection.
The group was recently granted charitable status.
Helen said Sunday would be an opportunity for many others, like her, to write a special message to their babies. She said the event will offer support and let parents know they are not alone "It is one of the few things that you can do to remember your child," she said.
"It is a really emotional day for many and it is a chance to offer comfort and support to those who are in need of it.
"There are some people are coming over from England to the event and it is good for us to get together.
"It is not only mothers but whole families who attend."
Mr Donaldson said he was glad to be able to support the event and praised the work of Helen and her colleagues.
"It is vital that families receive support after losing a little baby and the event will highlight the need for that support on the day and in the future" he said.
There will also be a chance to take part in the balloon race. Last year's winning balloon reached Norway. You can also make a donation to the Babyloss Awareness Campaign by logging onto their website www.babyloss-awareness.org Anyone looking support can also visit the website which is www.lifeafterloss.org.uk or call 07599707902 or 07845700169 for more details.