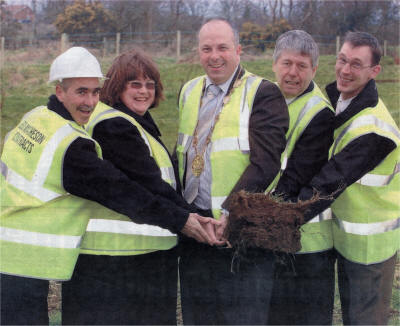 Cutting the first sod for Maghaherry's new Village Hall are (L-R) Leo Matheson. Leo Matheson Contracts; Gillian Finlay, Chairperson Maghaberry Community Association; Mayor of Lisburn and local Councillor for the Maghaberry area. CIA James Tinsley: Chairman of Lisburn City Council's Leisure Services Committee, Cllr Brian Heading and Eamon McMullan, Rural development Council.
MAGHABERRY is set to benefit from a brand new village hall costing over half a million pounds.
The first sod was cut this week at the site spanning 5.4 acres of land which was made available by housing developers Lewis and Coulter for the village green in the centre of Maghaberry.
Funding for construction of the £550,000 village hall, which will occupy part of this land, was majority funded by Lisburn City Council, together with a substantial contribution from the Rural Development Council of £150,000 and an additional £20,000 from the local Community Association
Chairman of the Council's Leisure Services Committee, Councillor Brian Heading said: 'As part of Lisburn City Councils 'Satellite Community Centre Programme', I am delighted to see work commence on this site and over the next few months while construction progresses, I look forward to Council Officers working with the Community Association to deliver the community development plan."
The local community will use the village hall for a variety of programmes, including a youth club and social activities for elderly people. Maghaberry Community Association has been working towards putting a community development plan in place and the village hall is a key element in delivering services in the Maghaberry area.
Chairperson of Maghaberry Community Association, Ms Gillian Finlay is looking forward to seeing construction underway and said: "Over a number of years many people from the village have served on Maghaberry Community Association, working to bring this project to fruition.
"I would like to pay tribute to everyone in the village who has given of their valuable time, and acknowledge Lisburn City Council and other Statutory agencies for their continuing help and support.
"Maghaberry Village and all local residents in the area are keenly anticipating their own village hall."