INSTITUTE HOLDS SPECIAL DINNER TO MARK OCCASION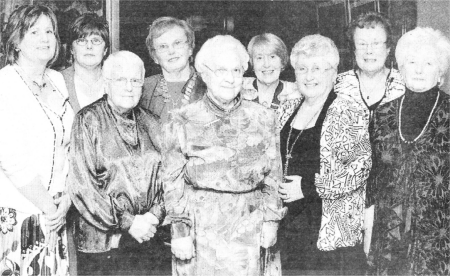 ABOVE: Past residents of Magheragall Womens Institute. US1208-552CD
THERE were celebrations for the ladies from Magheragall Women's Institute recently as they held a special dinner in Dunmurry Golf Club on March 13 to mark the organisation's 60th Annversary.
Magheragall WI was formed in March 1948 and held their first meeting in Magheragall Primary School. The first President was Mrs Kay Ireland and the committee members were Mrs Gertie Linton, Miss Rogan, Mrs McCallin, Mrs Beckett, Miss Bell, Mrs Kathleen Boomer, Mrs Clenaghan, Mrs Clokey, Miss Graham, Miss Ireland, Mrs Nelson, Miss Spence and Mrs Towley.
In 1949 the group moved into the recreation hall before moving to their present home at Four Quarters Orange Hall. The first outing to Bangor was held in 1948 and since then outings have been held to many interesting places and exchange visits with the Irish Countrywomen's Association and the Scottish Women's Rural Institutes. Several members have attended Associated Country Women of the World conferences in Canada, Kenya, Ceylon (now known as Sri Lanka), New Zealand and Ireland.
| | |
| --- | --- |
| | |
| Magheragall ladies hold a dinner in years gone by. | Gertie Reid, president of Magheragall WI and Betty Birnes, Federation chairperson. at a dinner at Dunmurry Golf Club to mark the Magheragall's 60th anniversary. US1208-554CD |
Gertie Linton, Maisie Law, Mollie Linton and Eileen Drayne served on the Federation Executive Committee. Betty McCrory, Vi Bell, Sylvia Jess, Gertie Reid and Pauline McAufield have served on Federation sub-committee's.
During the past 60 years members have helped many charities, hospitals and local special schools. In the 50s and 60s the institute formed an Emergency Feeding team and travelled over the Province to help out where they were required.
The late Mrs Gertie Linton held the office of Federation Treasurer and the members of Magheragall furnished a room in Federation House in her memory in 1978, which is known as the Linton Room.
Current President Gertie Reid said the dinner was a fantastic success, which was very well supported and the ladies look forward to many more years of Magheragall WI.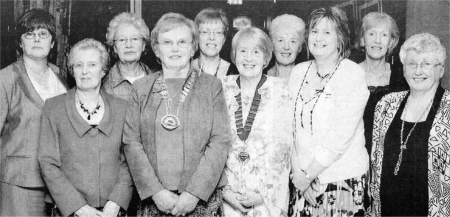 Committee members of Magheragall Womens Institute at a dinner to mark its 60th anniversary. US1208-553CD