by STACEY HEANEY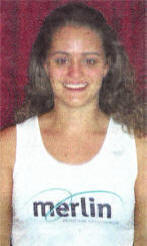 LISBURN girl Rachael Dumigan will cast aside her own medical issues in order to help those in need of vital health care and medical relief across the world when she takes part in the Royal Parks Half Marathon in London this Sunday (October 12). Rachael, who has recently been diagnosed M.E., will be undertaking the 13.1 mile challenge to raise funds for Merlin (Medical Emergency Relief International), the only specialist UK agency which responds worldwide with vital health care and medical relief for vulnerable people caught up in natural disasters, conflict, disease and health system collapse.
23-year-old Rachael, who is a former pupil of Wallace High School, has been studying in London for four years and is currently undertaking a Masters Degree in Neuroscience at Kings College, London.
Despite her recent diagnosis and the tiredness her condition causes her, Rachael is determined to continue with her fundraising and the half marathon across London's Parks.
Rachael will join 12,000 other competitors in Hyde Park on Sunday to take on the challenge for a cause close to her heart.
"I take part in health care and charity work with refugees in London," said Rachael, "and I would quite like to get involved in health care, possibly in Africa with refugees, when I graduate.
I discovered Merlin when I was doing some research on the Internet and I got really interested in what they do."
Rachael added, "I was recently diagnosed with M.E. so for me this is quite a challenge, especially the training. I am a little bit tired but I am determined to do it.
"I'm hoping to run in fancy dress, I'm thinking of a jungle theme and my mum and dad are coming over to support me. I don't expect to do it in a quick time but I just want to have fun."
Rachael has also recently been writing her dissertation, which has hampered her fundraising, however she hopes to continue gathering funds following the race.
"I've raised around £200 and I was aiming for £500 but with writing my dissertation I have had no time, but I hope to do something after the race."
Carolyn Miller, Chief Executive of Merlin commented: "We really appreciate the effort and commitment of all the runners. The money they raise will make a huge difference to Merlin's work providing health care in the world's most difficult countries — it will literally help us to save more lives."
If you would like to sponsor Rachael you can do so by visiting http://www.justgiving.com/rachaeldumigan. To find out further information about Merlin please visit