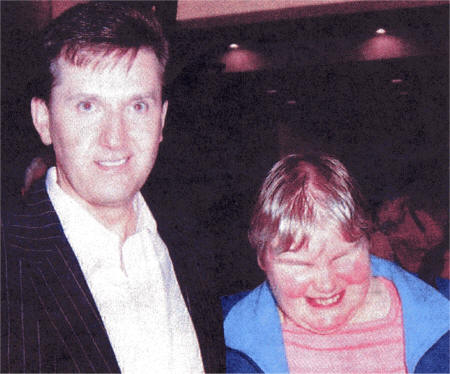 Margaret Graham with Daniel O'Donnell.
A CHARITY country music night in the Chestnut Lodge, Moira, promises to be a night full of music and fun - just like the woman it is in memory of.
The night has been organised by Denise Frazer and Velma Hawthorne in memory of Lisburn woman Margaret Graham, who passed away in October 2007.
Margaret, who was blind, was diagnosed with breast cancer a number of years ago, and having recovered, sadly succumbed to pneumonia.
Margaret was well renowned for her love of music and her friends have gathered together to organise the evening on Wednesday June 4 in aid of Marie Curie Cancer Care and the Royal National Institute for the Blind (RNIB).
Artists appearing include Conal Gallen of 'Horse it into ya Cynthia' fame, The man with the Hat, TR Dallas from Co. Westmeath, Trevor Moyles from Co. Mayo, Warren Smyth NICMA radio presenter of the year from Downtown Radio, Conor McKay The Singing Brickie, Gary Gamble NICMA Newcomer of the Year, Helen McCabe with her fiddle, Kenny Paul from Maghera and Cowboy Larry from Radio Star. The compere will be Paul Martin from Radio Star, whilst Breakaway will be the backing band.
Denise said: "Margaret loved music, the number of CDs and videos she had was unbelievable. Even though she was blind she always watched her videos because she said she could feel the atmosphere from them."
Denise and Margaret met 18 years ago when Denise, who works in Lisburn Library, was out in the mobile library and the pair got talking about a shared love of country music.
Denise commented: "I asked her if we had what she was interested in and told her it didn't matter how obscure it was, when she said who she liked she was talking to the right girl.
"This was about a month before Daniel O'Donnell was due to play in Belfast. Unfortunately Margaret wasn't able to go due to illness but I got a card and sent it to Daniel with her number and told him all about her. During the evening she got a phone call from him and when he said who it was she said 'sing to me', so he sang down the phone to her. He never forgot her and always spoke to her when he saw her or said her name from the stage, everyone knew her and loved her.
"Everyone performing has been brilliant, giving their time for free and the Chestnut Lodge have given the room for free and are sponsoring the food. Local businesses have also given prizes for the raffle."
Denise continued: "Margaret was full of confidence, full of life and full of fun. She'd have loved this night, she was such a caring person."
Admission to the event costs £12.50. Doors open at 7pm and the show begins at 8pm until late.
* The Star have two pairs of tickets to give away to the charity night. Just tell us, What song is Conal Gallen famous for? Send your answer with your name, address and contact number to Stacey Heaney at the Ulster Star, 12A Bow Street, Lisburn BT28 1BN or email your answer to stacey.heaney@jpress.co.uk. The closing date for entries is Wednesday May 28.