Council want stall holders to move to Lisburn Square
by STACEY HEANEY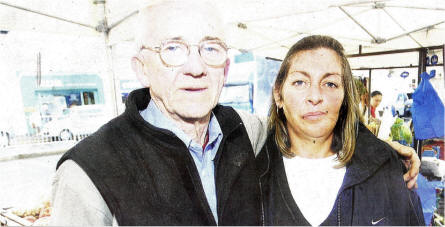 MARKET traders in Lisburn have expressed their concern after a meeting -was called by Lisburn City Council to discuss moving them from their current site in Smithfield Square to Lisburn Square.
Local stall holders, many of whose families have worked at Lisburn market for generations, believe that the move would be to the detriment of their livelihoods, as they don't believe Lisburn Square would be big enough to accommodate them.
In a letter received by traders this week, the Council invited those operating in Smithfield Square and Lisburn Square to a meeting on Monday (October 13) to discuss "proposals to cease operating the temporary overflow market from the Smithfield Square site as there is sufficient space within Lisburn Square to accommodate all market traders."
Local trader Catherine Deacon, who is the third generation of her family to run a Fruit and Veg stall at Lisburn market, said: "It is just not feasible for us to move to Lisburn Square. There would be no room to facilitate our lorries to replenish our stock throughout the day."
Another trader, Jimmy Murdock, added: "This is like a bolt out of the blue. I have been trading for 60 years and my family were trading before me.
"Lots of people are gobsmackecl and absolutely flabbergasted by this," he said.
Jimmy continued, "If there is going to be a market in Lisburn it needs to be on the site it is on. We were not taking anything out of the system, we are adding to Lisburn city. People come from all locations to visit the market.
"There is no way the market would fit into Lisburn Square. The council have nothing to do with that market, and it is not suitable to hold this outside operation.
"I have been here since I. was 15 years old, my grandmother traded here before me. I am sick to my stomach," Jimmy concluded.
A Lisburn City Council spokesperson said: "At last month's meeting of the Environmental Services Committee it was agreed to invite traders who are still using the temporary overflow market in Smithfield Square to a meeting to discuss their relocation to the main market trading area in Lisburn Square.
"This meeting, scheduled to take place before the next meeting of the Committee, will enable market traders to put their views forward and future arrangements for those occupying the temporary market area outside Lisburn Square to be discussed."