by JENNY MONROE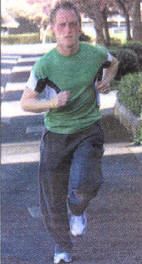 WHEN a Lisburn man crosses the Edinburgh Marathon finishing line at the end of the month he will have double cause for celebration.
Mark Clougherty, a 35-year-old father of-three will not only have just completed the gruelling 26.2 mile marathon for the Everyman Male Cancer Campaign, but he will be celebrating being in remission following his testicular cancer diagnosis in 2005.
Mark, originally from Clydebank, chose to run the marathon for Everyman because of his own experience with the illness.
Within a week of being diagnosed he was having his testicle removed and is living proof that catching testicular cancer early saves lives.
Mark explained: "I was at the peak of physical fitness when diagnosed and it was a complete shock when the doctor told me I had testicular cancer. Having treatment straight away prevented the cancer from spreading and definitely helped save my life.
"I really wanted to give something back and help raise awareness of the disease and running the Edinburgh Marathon for such a deserving cause as Everyman was the perfect platform. I just can't wait now for the feeling of crossing the finishing line."
As well as putting himself through a gruelling training schedule, Mark's also been busy drumming up support by organising fundraisers via his children's school, the football team he plays for, as well as with the help of his workmates. Everyman spokesman Emma Chambers said: "We are so proud that Mark has chosen to run the Edinburgh Marathon for Everyman. He has gone through a course of radiotherapy and come out of the other side determined to help raise awareness of testicular cancer. His dedication to training and fundraising are both amazing feats in themselves and we urge everyone to support Mark in anyway possible."
If you would like to support Mark's marathon bid please make a donation at www.justgiving,.com/markclougherty
• Everyman is the UK's leading male cancer campaign, funding research into prostate and testicular cancer, which together affect around 37,000 men every year in the UK. For more information visit www.everyman-campaign.org or call 0800 731 9468.