by STACEY HEANEY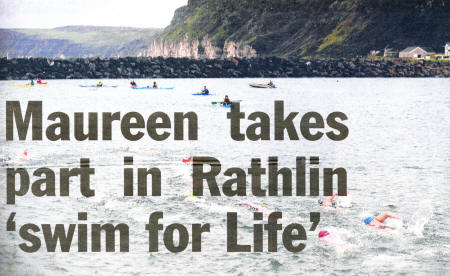 A LOCAL swimming instructor has taken the plunge in the inaugural Swim for Life, swimming from Rathlin Sound to Ballycastle to raise awareness of Climate Change.
Maureen McCoy from Hillsborough, who is a coach for Lisburn Swimming Club, swam the seven mile freezing waters for the cause and was just one of four women out of 19 swimmers to take on the treacherous route. Maureen commented: They used to run this event about 50 years ago and last year Kenny Boyd did it, so now hopefully it can be resurrected as an annual event.
"The swimmers who take it on face a very tough swim. There are seven different tides that move in different directions so it can be
"I found out about the swim by looking at the calendar of events and thought 'I fancy that one', it looked like quite a challenge."
Describing how she felt before the swim Maureen said she was "very nervous". She continued, "It's the open sea and anything can happen. During the swim I was the coldest I have ever been, but it makes you feel alive. I would definitely do it again."
The event was the brain child of local environmental consultant and swimming enthusiast Kenny Boyd.
Kenny commented: "I am delighted that the Swim for Life 08 delivered not only a unique sporting spectacle but it also helped to raise awareness on the urgent threat to tackle climate change.
"This is a tough event and each and every swimmer can be proud of their participation, to swim seven miles in the most
From left to right, local swimming teacher Maureen McCoy from Hillsborough, Patrick McCay