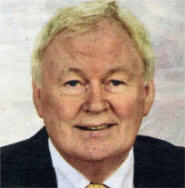 A FORMER Lisburn man has been appointed head of the European Commission Office in Northern Ireland. Maurice Maxwell recently took up his position, based in Belfast.
Maurice is a graduate in economics from Queens University Belfast and a qualified chartered accountant. He joined the European Commission in 1983 and has had a varied career in research and development policy, small business policy and resource management. His most recent posting was as European Commission Representative to New Zealand from 2004 to 2007.
Speaking about his new position Maurice commented: "I am delighted to be appointed as the new Head of the European Commission Office in Northern Ireland and I look forward to maintaining and building upon Northern Ireland's links with the European Commission."
Maurice will lead a small team in Northern Ireland and keep the European Commission in Brussels and London informed of 'the latest developments in the country. This helps the Commission to take regional issues and problems into account when formulating policy.