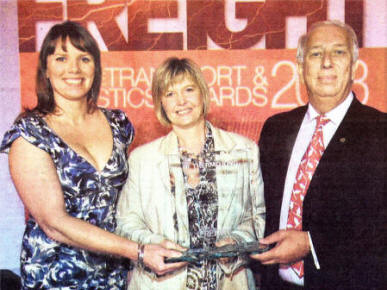 LISBURN based 'McCulla Ireland Ltd' has picked up one of the top accolades at the prestigious annual 'Export and Freight' Transport and Logistics Awards.
The company which employs 130 people at Blaris was presented with the 'Temperature Controlled Best Practice' Award.
This took the form of a special cut glass trophy handed over by award sponsor Thermo King's Graham Eames at a glittering ceremony in the Ramada Hotel at Shaws Bridge.
The independent panel of expert judges said the category was 'hotly contested' but described McCulla Ireland as a 'worthy winner.
The firm has almost 40 years experience of temperature controlled storage and distribution giving it the ability not only to respond to customer requests but to provide tailored solutions to their logistical problems.
It also has vast resources to call on including a huge storage capacity and a modern fleet of vehicles. However, a spokesperson said its key driving force was its enthusiasm for combining new ideas with traditional services.
"A radio frequency warehouse management system, for example, controls the flow of product from manufacturer to delivery point while sophisticated traffic control software ensures the optimum utilisation of the fleet at all times," the spokesperson explained.
McCulla Ireland has received awards in the competition on previous occasions including 'Best Irish Chilled Haulier' and 'Irish Transport Manager of the Year'.
The awards ceremony — now in its seventh year - is organised annually by Export & Freight, and is recognised as the premier event in the Irish transport calendar. There are 16 categories covering every aspect of the transport and logistics sectors and the aim is to identify the best in the industry.