by JILL LOUGHLIN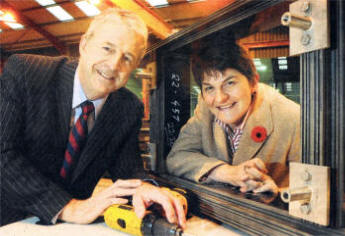 ENTERPRISE Minister Arlene Foster has opened a new extension to the Moira headquarters of construction company McMullen Architectural. The company specialises in the construction, manufacturing and installation of high quality windows and curtain walling and is part of the multinational McMullen Group, which has subsidiary companies in Scotland and the USA. The group also has a sales presence in GB, Republic of Ireland and across Europe.
The extension is the culmination of a successful period for McMullen during which the company's turnover has doubled to more than £50m, helped by securing high profile and large contracts including redevelopment projects at Arsenal's stadium in London and 545 Madison Avenue in New York.
Highlighting McMullen's success in global markets the Minister said: "Despite the impact of the economic downturn on the construction industry, McMullen Architectural continues to prosper because of its commitment to innovation and developing international market opportunities." "These attributes, along with its tradition of quality workmanship and strong customer focus, have helped McMullen become a leading name in the supply of window and curtain wall products right across the world." In recent years the company acquired Systems Aluminium in Scotland and established a US subsidiary, McMullen Inc.
The company's MD, Ted McMullen said: "Since first setting up in 1971, the company has grown substantially and we have had to look to markets beyond Northern Ireland for opportunities to build our reputation and, crucially, our turnover.
Our relationship with Invest Northern Ireland, with advice and support having been provided in areas such as staff training and product development, has enabled us to become an even stronger international player. This success has given us both the confidence and the means to invest in our new expanded head office, which will further add to the company's overall capability and complement our significant global reach.
"We are now well positioned to continue growth towards our turnover target of £70million within the next two years."