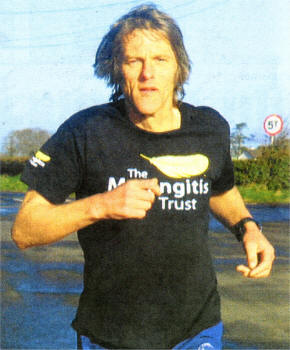 At three months old Crumlin man was at death's door, 53 years later he's raising money to defeat illness
A CRUMLIN man who suffered an almost fatal bout of Meningitis when he was just three months-old plans to raise £10,000 for Meningitis Trust.
The first of David Flowerday's many fundraising events will be an 85 mile run around Lough Neagh on June 27.
David (53) had always wanted to take on a personal challenge for Meningitis Trust; to raise vital funds and awareness of the disease.
The self-employed landscape gardener recalled how he spent 19 days at Purdysburn Hospital suffering from the potentially fatal condition.
He did not have the usual symptoms of a rash but he was gravely ill with a pale complexion. His eyes were rolling around and he made a high pitched whining noise.
David explained: "My parents did not like the look of me. As we did not have a car, or a phone, my father had to run for a mile round to the doctor's surgery and into the room where he was with a patient. When he heard what the symptoms were the doctor left the patient he was with and rushed back to see me.
"There was no ambulance so my grandfather, who had a car, drove me straight into the hospital in Belfast."
David remained 'at death's door' for 19 days and his name appeared in a news column dedicated to the sick and dying.
His parents were told afterwards he had suffered from bacterial meningitis which proves fatal in 10% of cases.
Luckily he made a full recovery and explained he wanted to raise money for a charity that helped people affected by the horrible disease. "I was very lucky to have made a good recovery, but others are not so fortunate," he said.
The Meningitis Trust - the UK's longest established meningitis charity - helps people who are struggling to cope with the impact of meningitis. A recent survey discovered 13,900 people living in Northern Ireland today have had either viral or bacterial meningitis.
Kelly Shaw, Northern Ireland Fundraiser for the Meningitis Trust said: "We are so grateful to people like David, who take on huge challenges to raise awareness and funds for us.
We rely completely on voluntary donations to continue our work, so David's efforts are really valued. His passion to fight back against meningitis is an inspiration to us all — we wish him the best of luck."
To find out more about meningitis or the work of the Meningitis Trust, log on to www.meningitis-trust.org or call their 24-hour freephone helpline on 0800 028 18 28.