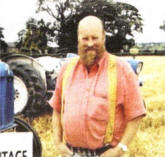 HILLSBOROUGH man Mercer Ward proved he knows a thing or two about a straight furrow when he won the All Wales Reversible Ploughing Championship recently. He also came second in the Reversible Class of the European Vintage Tractor Ploughing Championship.
The two events hosted by Radnor Vintage Ploughing Club at Prestreigne in Powys drew vintage tractor enthusiasts from across Europe, including a three strong team from Northern Ireland captained by Mercer.
His team mate Frankie Davidson of Larne came third in the hydraulic class of the European Championships while Jackie Moore from Bangor was fourth in the trail plough class.
Mercer said he was also looking forward to the recent Northern Ireland Vintage Tractor Ploughing Championships.