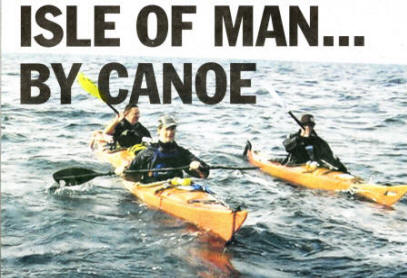 A MOIRA kayaker has paddled his way to the Isle of Man to raise funds for charity.
George Bryans, 50, a bank manager, took to the Irish Sea at the end of September on a sponsored challenge aimed at ending the misery caused by ulcerative colitis and Crohn's Disease.
He was joined by Denny Rice, 49, a landscape gardener from Banbridge and Killough artist Kieron Black, 38. The three men took 11 hours 45 minutes to paddle from Ballyhornan to Peel Harbour, Isle of Man, leaving at first light on Friday September 26 and achieving their goal just as the sun was setting.
Kieron was diagnosed with severe Crohn's disease in August 2004, though his doctors think it may have been in his system for ten years before that. For a man whose life revolves around the sea, it was devastating news.
George explained that he and Denny, both members of Banbridge Canoe and Kayak Club, met Kieron on the sea.
The men are delighted that their efforts have so far helped raise £3000 for the Royal Victoria Hospital.
George commented; "The conditions changed during the day and it got tight near the end.
"We have been training for this for months. There was a lot of work involved but it has been worth it." The kayakers had expected the 32 mile trip would take 10 hours, but due to the weather the final trip amounted to 38 miles.
And their achievements could appear on TV as Kieron's father, Brian Black of UTV accompanied them and filmed their efforts.
George would like to thank everyone who sponsored or supported their efforts in any way.