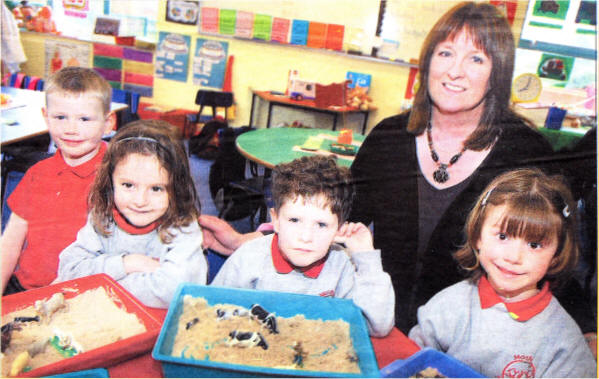 Moira Primary School Primary one pupils pictured with School Principal Mrs Carol Mairs as the School announced the opening of their Nursery. US1408-116A0 Picture By: Aidan O'Reilly
THERE were celebrations at Moira Primary after Education Minister Caitriona Ruane gave the the school's long awaited nursery unit.
Making the announcement on Wednesday, Ms Ruane said: "I believe in giving our children the best possible start as learners. Effective pre-school education helps the development of children and improves their social and communication skills, all of which is vital to helping them achieve."
School Principal Mrs Carol Mairs said everyone at the school was delighted with the news.
"We have been waiting on this development for a long time and we are absolutely thrilled for the whole community of Moira" she said. "There has been an underprovision of preschool places in the area so we are delighted now be able to address that.
"We have been waiting for a long time and we are pleased that work will finally be able to start on Moira Primary School's new nursery unit."
Lagan Valley MP Jeffrey Donaldson, who met with the Minister this week, said the announcement was a successful outcome to a long and hard fought campaign.
"This is something that I and the Board of Governors have been fighting for for a number of years now and I am pleased that our efforts have now been rewarded with this positive decision."
Mr Donaldson went on to thank everyone who had supported the campaign, including parents, school staff and the wider community.
"Moira is a growing area with a young population and there was a crying need for a nursery unit at the school," he continued. "Hopefully now things will proceed according to plan and the children of Moira will be able to benefit from this new facility in the near future."
Lisburn Councillor Jim Dillon also welcomed the announcement. "We are very appreciative of all the hard work everyone has done to achieve this outcome."