by MARY MAGEE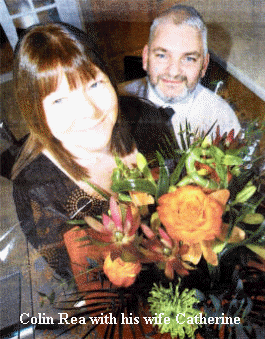 A LISBURN man who proposed to his wife in a unique way has been voted Northern Ireland's Most Romantic Man.
Colin Rea, from Ruskin Park, won the title in a UTV Life competition which was organised with easyjet Holidays for Valentine's Day.
All those flowers, chocolates and poems that he regularly sends to wife Catherine paid off as the couple won a three day trip to one of Europe's most romantic cities, Venice, where they will stay in one of their top four-star hotels.
Colin, an electrical contractor, was nominated by his wife who said he regularly tells her just how much she means to him. From the time they first began dating he surprised her with gifts and flowers.
He sent her a bunch of red roses a week after they first dated and proposed to her in a rather unusual fashion on New Year's Eve in 1999.
Catherine recalled: "Colin took me to Murlough Bay and in the sand he had pebbles arranged to read 'Catherine will you marry me?'
"I was more than happy to say `yes' and we married on June 12, 2000. It was a second marriage for both of us and we've been blissfully happy ever since.
"He always brings me flowers and sends me poems and letters continuously. He is a fantastic man and husband and a brilliant stepdad to my daughters and a brilliant grandfather to two lovely granddaughters.
"He fully deserves to be recognised as Northern Ireland's Most Romantic Man. I love him so much."
Judges of the competition included radio presenter George Jones, Emma Heatherington, author of the book Crazy For You, and Nicky Petrie of easyJet.
Ulster Star
22/02/2008
Colin Rea with his wife Catherine at home on Valentines Day. US0808-102A0 Picture by Aidan O'Reilly