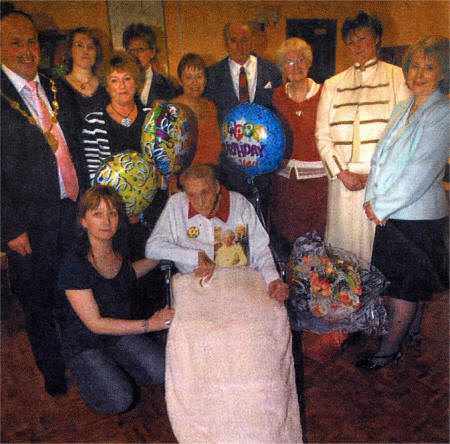 Mrs Bella Logan with family and members of the South Eastern Trust and Mayor James Tinsley for the 100th birthday celebrations. US1108-512C 0 -100
SEYMOUR House hosted a 100th birthday party for Mrs Bella Logan who celebrated her remarkable life in style surrounded by her loving family and friends.
Also in attendance were the Mayor of Lisburn, Mr James Tinsley, MLA Basil McCrea and senior representatives of the South Eastern Health and Social Care Trust.
Mrs Logan nee Rodgers was born in Limavady in 1908 to a farming family, third youngest of 13 children. She married a local man, Samuel Logan and when he got work in Belfast they left rural Limavady for to live in the 'big smoke.
Unfortunately Samuel's life was cut short. He died when his youngest child was as yet unborn and Isabella was left a young widow with six children to rear at a time when the state did very little to help.
However, Mrs Logan did just that, providing a secure and loving home for her children while going out to work to earn the family's income. She became a well-known figure in Dunmurry travelling on her big, old-fashioned, black bicycle. Some called her the nurse' because, as many will remember, that was how district nurses attended their patients at the time. Mrs Logan not only fed and clothed her children but ensured that they received a good education.
When asked for the secret of her long life Mrs Logan said: "Hard work, no smoking and no drinking." She certainly abided by this maxim herself, working until the age of eighty.
After her retirement Mrs Logan had twelve years of good health but at the age of 92 she could no longer live independently and moved into Seymour House.
Never a day passes when at least one and often more of her children come to visit the mother who reared them with such love and dedication. A truly remarkable woman who, out of tragedy, has created a lasting legacy of love amongst her children and their children. The huge turnout of family and friends for this event is evidence of the love and regard in which she is held by all who have the privilege of knowing her.