by NEIL GREENLEES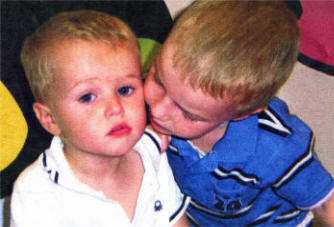 THE parents of a Hillsborough toddler who set up the charity Struggle Against Muscular Dystrophy (SAM) after he was diagnosed with the invariably fatal condition fear their son will quickly become 'a bright spirit trapped in his own body' after learning he has a very rare form of the disease with so few sufferers funding for research into it has all but dried up.
Tracy and William McCausland now face the heartbreaking reality the lack of time and money available for the battle against Congenital Merosin Deficient MD could mean they will have to watch helplessly as Sam, who recently celebrated his second birthday, deteriorates much more quickly than they expected.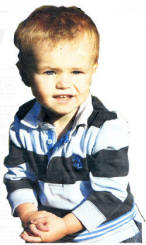 However, they intend to do everything in their power to prevent this happening. They also believe their 'pleasefixsam campaign, which raises funds for the charity, could soon become the only source of funding for research into this type of Muscular Dystrophy.
"We are still working towards our target of raising half a million pounds - that will enable us to help start research into this form of MD. We will have to keep on with the fundraising as time goes on," said Tracy.
"There may eventually be hope in such developments as stem cell research which promises to help many different medical conditions. Without hope we have nothing. We cannot and will not give up."
Tracy and William's research into 'Congential Merosin Deficient MD' has found just five children other than Sam with this form of the disease and several of them have been severely affected at a very young age.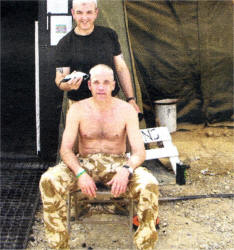 One little girl is no longer able to hold herself in a sitting position let alone stand up at the tender age of four. She already has Scoliosis (twisting of the spine) and has to have breathing support," Tracy explained. Like the more common Duchene MD, Congenital Merosin Deficient is caused by a problem within the DNA which renders the body incapable of producing a vital protein for muscle structure and maintenance - in this case Merosin.
Tracy and William have been dedicated fundraisers for their charity since their son's diagnosis but now face the heartbreaking prospect of little research into ways of halting his deterioration from this particular form of the disease being carried out
"I had word back just today from a scientist in Pennsylvania who carried out a preliminary research project in 2005 saying that they were unable to get any further funding," said Tracy.
"Compare this to Duchene where there is a real chance of a treatment in the near future - there are currently over 40 research projects being carried out worldwide, some of which are at human trial stage.
"The awful reality is that even if we are able to fund further research into this form of the disease it may come too late to help our wee man and that twists like a knife in my guts -thinking that because of a lack of time and money my beautiful child may become a bright spirit trapped in the prison of his own body as his muscles steadily waste away... No-one can imagine that pain."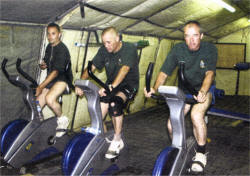 At present Sam is enjoying the Florida sunshine with his parents and elder brother Callum, who is receiving therapy for Dyspraxia in the sunshine state.
However, Tracy and William know these may well be the 'best of times' his family will have with him.
"I have to admit that it was hard at times to put aside the fear of what Sam's future holds and to just enjoy the here and now. I couldn't help but wonder as I watched him stumble around after his big brother if he will still be on his feet next birthday" continued Tracy.
"I am so terrified of the future - I wish we could just freeze time and enjoy the time Sam has now... I know that these are the best of times we will have with him as the future holds the terror of watching helplessly as Sam's muscles deteriorate and his lungs and heart weaken.
"Wheelchairs, ventilators and feeding tubes are looming who knows how far or how near around the corner. It is a frightening future."
For Tracy and William the last few years have been a real life version of every parent's nightmare.
Sam's diagnosis was the harrowing blow and came just two years after they faced the prospect of losing him when he became very ill with Meningitis shortly after being born.
Their elder son Callum also faces a challenging future as he battles to overcome acute oral and severe verbal dyspraxia.
"It's hard to stay calm and to be rational and positive sometimes when you are so afraid, and when it seems that fate just wants to kick you again and again and again. I am just so sad for my two little boys," Tracy added.
The Hillsborough woman has spoken in depth about the hopes and fears she and her husband share as well as Callum's battle against Dyspraxia. Read the full story at www.lisbumtoday.co.uk
---
Soldiers raise £4000 for charity while serving in war torn Afghanistan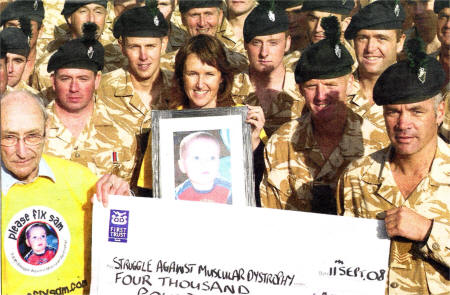 Sergeant Gary Wilkins and the men of 2 Royal Irish IMJIN Company with Gillian Garrett (S.A.M. Chairperson), Sam Letters (S.A.M. Committee Member).
THE grandfather of Hillsborough toddler Sam McCausland has been presented with a £4000 cheque by Territorial Army soldiers who raised the funds while stationed in war torn Afghanistan.
The money received by Mr. Sam Letters on behalf of his daughter Tracy and son-in-law William during a medals parade at Hillsborough Castle last Saturday will be used by the charity 'Struggle Against Muscular Dystrophy' (SAM) to fund its desperate quest to find a successful treatment for the terrible illness which causes muscle wastage, quadriplegia, pain and eventually death.
The TA soldiers, who are members of IMJIN Company 2 Royal Irish, first read about the toddler's plight in a news report contained in a 'morale package' sent to Sergeant Gary Wilkins by his mum.
They immediately e-mailed the charity offering to help raise both funds and awareness of the disease
which is the number one genetic killer in the UK and Irish Republic. "In keeping with custom, 2 Royal Irish donate to a charitable organisation annually and IMJIN company were no exception, even out in Afghanistan," explained Sergeant Wilkins.
"Within hours of reading about the appeal our operational resident barber, Corporal Alan Yeates, was busy shaving heads to the required standard for $2 a go - all in aid of SAM -while others put on their thinking caps in a bid to raise as much cash as possible."
The soldiers decided on an epic stationary cycle marathon covering the distance between Afghanistan and Ballymena, their Northern Ireland base town, launched by Major Mark Hudson, Officer Commanding Imjin Company.
However, as Sergeant Wilkins explained, the stationary nature of the marathon did not make it any less gruelling: "Company Sergeant
Major Errol Monaghan, Colour Sergeant Stephen Barnes and I kicked off the sponsored ride on exercise bicycles in the gym in temperatures averaging 44 degrees celsius," he said.
"Before the end of our tour, the distance of 5958 kilometres was whittled down by the officers, senior ranks and men of Imjin Company." Gillian Garrett, Chairperson of S.A.M.'s Charity Committee who received the cheque along with Mr. Letters said they were "incredibly proud of the soldiers.
"When facing such adversity they had the compassion to think of helping these children who are suffering from this awful disease," she added.
Gillian also explained SAM is a 'zero cost' charity: "Everyone who is involved in the campaign gives their time, expertise, products and services for free. This means that every penny goes directly into the hands of the researchers."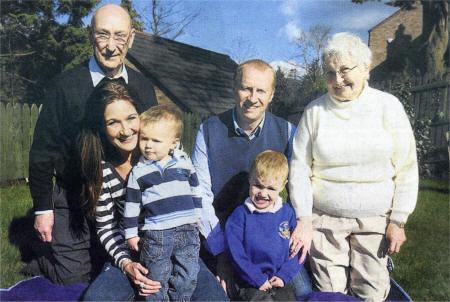 Sam McCausland with brother Callum, parents Tracy and William McCausland and grandparents Sam and Patricia Letters.