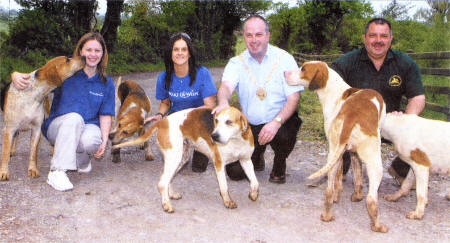 Mayor of Lisburn, James Tinsley with Derek Lutton one of the organisers of the National Countrysports Fair 08 and Joleen Moran and AnnaMcEwan from Make a Wish charity with some foxhounds at the launch of the National Countrysports Fair. This year's fair will take place at Moira Demesne and the 'Make a Wish Foundation' is the charity the benefiting from the event. Pic Edward Byrne Photography
Bigger and better countrysports fair set for Moira says KUNE. Kune pigs, pigmy goats and Harry Potteresque Snowy owls are just a few of the rare animals that can be seen at Moira Demesne during the 13th annual National Countrysports Fair which runs from May 31 to June 1.
New this year is a twice daily show of the 'Knights of the Damned', the top UK medieval jousting team and a sky-scoring aerial acrobat display by the Yakovlevs Air Display team. There will also be an International Food Fair featuring 60 fine food exhibitors. There will also be spaniel and retriever gundog displays; a 'dog and duck' derby, fly-fishing demonstrations, display from Scottish Phoenix Falconry group and 4x4 wheel drive tryout tracks for the fair that draws crowds of over 20,000 from all over Northern Ireland and the Border Counties.
Event organiser Bill Beckett said: "The National Countrysports Fair is for everyone who loves animals and who appreciates the country life.
"Visitors can try their hands at everything from clay pigeon shooting, archery, air rifle shooting, 4 wheel driving, to the ancient Scottish art of stick-dressing. "
Lisburn's Mayor, Councillor James Tinsley was on hand to try a few of the attractions as the launch and said the Council was delighted to support the National Countrysports Fair for the next three years at Moira.
He said: "This major event brings significant economic benefits to the City of Lisburn, with most accommodation providers already fully booked and some 25,000 people expected to attend the 2008 Fair." The fair is sponsored in association with P8/0 Irish Sea and runs from 9.00 am until 6.00pm. Admission £10 for adults and £2 for children. Car parking is free.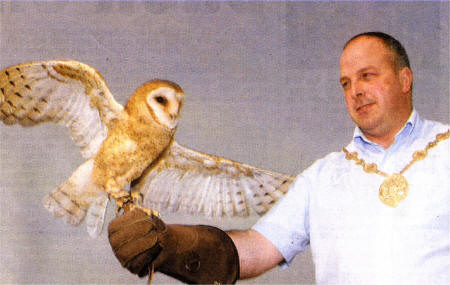 Mayor of Lisburn, James Tinsley with Misty the barn owl at the launch of the National Countrysports Fair 08 which will take place at Moira Demesne later this month.