Former Dunmurry HS pupil in command of the Lord Nelson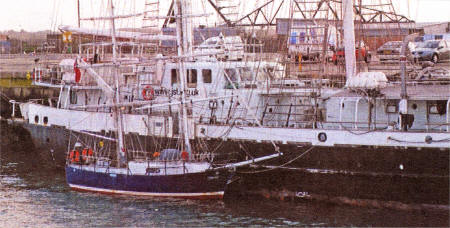 'Lord Nelson' with 'Bob Allen' alongside.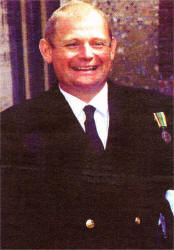 A LAMBEG man who served as a bosun during the Tall Ships memorable visit to Belfast in 1991 will be in command of the sailing vessel Lord Nelson when she ties up in the city next Friday at the start of its 2008 Maritime Festival.
The intervening 17 years have seen former Dunmurry High School pupil Neil Duncan work his way through the nautical ranks to achieve the position of Relief Captain on board the Jubilee Sailing Trust vessel which is specially adapted to accommodate people with physical disabilities.
His parents Monica and Lesley said their son was 'truly happy to be involved in assisting people of all physical abilities to take an active and equal part in square rigged sailing'.
They explained his love of ships dated back to his membership of Lisburn Sea Cadets, which he joined at the age of 11. "Most of all he enjoyed offshore training courses aboard T.S. Royalist, the Sea Cadet Corps sailing brig where he learned seamanship and related nautical skills," they added.
Neil served his apprenticeship as a motor vehicle technician at Dornans Service Station but in 1990 the lure of the sea proved too much and he joined the permanent crew of Royalist as Bosun.
This allowed him to pass on his knowledge and skills to younger cadets until 1994 when he joined the Essex based Cirdan Trust and became Chief Officer of the vessel 'Queen Galadriel' working with disadvantaged young people.
He left the Trust to become a Service Engineer for Fuel Distributors J.R. Rix but occasionally sailed on small coastal vessels to enhance his engineering experience.
In 1997 Neil returned to T.S. Royalist where he sailed as Engineering Officer and Relief Sailing Officer.
However, engineering was not to become his first calling as he really wanted to get back to his passion of hands on sailing.
In 1998 a vacancy arose for a permanent bosun on board Lord Nelson and Neil obtained the position. He became Second Mate, First Mate and eventually Chief Officer, the vessel's Second in Command.
"This means it is his responsibility to act as Relief First Officer and Relief Captain. It is in this role he will skipper Lord Nelson next Friday," they added.
Neil's parents said even his hobbies have a nautical theme.
"He is a driving force behind the Little Brig Sailing Trust whose vessel 'Bob Allen' will attend the Liverpool Maritime Festival," they explained.
Neil is married to Amy and the couple live on the Isle of Wight.
He is a keen walker, canoeist and skier as well as a qualified open water diver.