£1Om project to finally end jibe about the city that has no hotel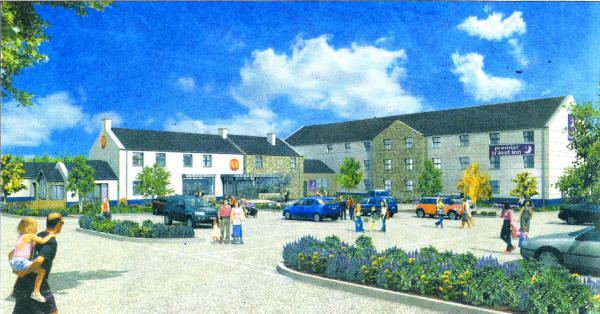 An artist's impression of how the new hotel could look
AFTER years of being of the butt of jokes, Lisburn is finally about to be able to declare it is a city with a hotel.
After many schemes and false starts, the Planning Service has given Whitbread Plc the go ahead for a new £lOm Premier Inn on the Hillsborough Road.
The final hurdle is to have the proposal agreed by Lisburn City Council, which seems certain at their Planning Committee meeting on Monday night. The 60 bedroom Premier Inn and Brewers Fayre restaurant will be developed by the Conway Group at a parkland site off the Hillsborough road. Speaking on behalf of the owner and developer of the site, the Conway Group, Des Taggart said: "We are very happy to announce that this plan is closer to being a reality. We have worked closely with the relevant planning bodies to ensure that the scheme works well with the local environment. "This is a great opportunity for Lisburn to create an excellent new tourism amenity with a Premier Inn and Brewers Fayre restaurant in a beautiful setting beside the river Lagan. The site will also provide new parking access and a potential new route into the Lagan Valley Regional park. This will add an excellent new, family-friendly amenity that will be great for tourists and the local population in Lisburn:" Northern Ireland acquisitions manager for Whitbread plc, Mark Adams, said: "We're very excited to be bringing a new hotel Lisburn, it is a great location and we are really looking forward to getting started. The Northern Ireland market provides a very attractive opportunity for us to expand and Lisburn in particular is a city on the up. "We're very confident about our investment here in Lisburn and following
recent announcements about new Premier Inns planned for Belfast and Coleraine, we hope to be able to announce further investments across Northern Ireland in the near future. "This £10m investment will create up to 60 new-full and part-time jobs and will give Lisburn access to the Premier Inn network. As the UK's largest hotel group, with 500 hotels, we welcome over 10 million customers every year. We actively market our hotels and boast a strong customer base and would therefore expect this new hotel to attract thousands of new visitors to Lisburn."
Lagan Valley MP, Jeffrey Donaldson. welcomed the development.
"This sends an excellent message about Lisburn and provides a much needed tourism amenity for the city and the surrounding area," he said.
"I've met with the developers and the Whitbread representatives and know their commitment to this hotel and am looking forward to seeing whit is hopefully the first of a number of hotels coming to Lisburn."