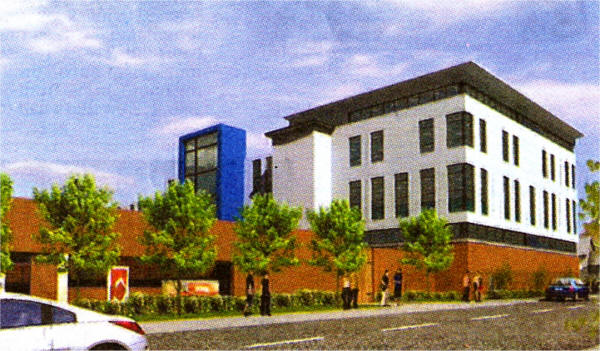 How the new building will look when it's completed in 2010
by JULIE-ANNE SPENCE
THE long wait for the South Eastern Regional College's new Campus building in Lisburn has taken another step forward as the Castle Street site is cleared in preparation for building to commence.
The new Campus will be situated on the site of the old Co-op and Electricity Board buildings in the historic quarter of the City.
Work is getting underway, and it is expected that in approximately two years Lisburn will have a state-of-the-art building that is designed to meet the
expectations of the people of Lagan Valley. The building will house purpose-built business incubation facilities for supporting and developing budding entrepreneurs along with product prototype facilities within the engineering fields and unique facilities for the Colleges specialisms in energy efficiency and refrigeration and air conditioning.
The College is investing in the regional of £20 million in this building with a further investment of £45 million in other Campuses across County Down, which, it says, is reinforcing its commitment to providing a high quality education in the region.
The developers, Farrans Construction, in conjunction with Knox and Clayton Architects are driving forward the development of the new Campus in Lisburn to be ready in the year 2010.
ABOVE - Demolition taking place in Castle Street in preparation for the new building and RIGHT - How the work has opened up the view of Castle House from Wallace Park. Pics by AIDAN O'REILLY