THERE were celebrations for the pupils and staff of St Aloysius Nursery Unit last week as their new playground was officially opened.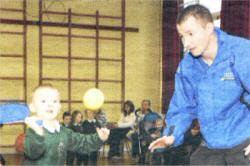 Guest speakers and parents attended the grand opening of the new state of the art facilities for the children at the school. Head of the Nursery Unit, Mrs Clare McAllister, said: "Having identified a need for extending and improving our playground facilities we secured funding from The National Lottery's Awards For All to enhance and develop our outdoor play area. "We recognise the importance of physical play during the early years and this 'New Space' provides many exciting opportunities, not only for our Nursery Unit, but for all pupils throughout the Foundation Stage, Key Stage One and Key Stage Two."
Principal of St Aloysius Mr Patsy McClean, said they were delighted with the new play area.
"We are convinced that to offer all our children the best education possible it is essential that they can avail of top quality, state of the art facilities.
"I would like to congratulate Mrs McAllister and all her staff for their hard work, diligence and ambition in securing the relevant funding for this superb addition to our school facilities." The parents were given information on the benefits of lifelong fitness and developing a physical literacy from an early age by Faron Morrison, Sports South East Partnership officer, whilst the children had great fun demonstrating their own physical literacy with a carefully planned set of activities which focused on many aspects of physical development, all facilitated by Lisburn City Council's Community Sports Development officer Kevin Madden.