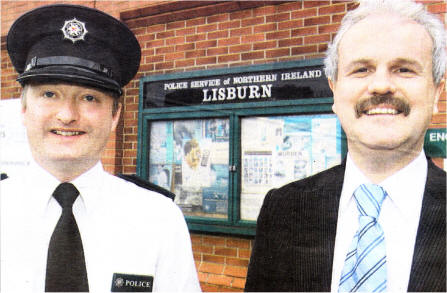 Chief Inspector David Moore of Lisburn PSNI with Councillor Thomas Beckett, Chairman of Lisburn District Policing Partnership. US1708-113A0
LISBURN'S new police commander has arrived with the message that anyone who breaks the law in the city "should expect feel the heat".
Chief Inspector David Moore was in charge in Carrickfergus before coming to the city a fortnight ago and has spoken of his delight at his move here.
It has been a baptism of fire for Mr Moore, who had just arrived when the crisis over the future of CCTV across Lisburn, Dunmurry, Moira and Hillsborough blew up.
And he is delighted the police were able to work with Lisburn Council and Lisburn Commerce Against Crime to get a solution to the funding crisis and ensure the cameras were switched on again.
Now he is keen to work with the partner agencies to get a long term solution to the funding problems, and is optimistic that is what will happen.
Mr Moore said he was well aware of the challenges he faces in reducing crime and raising clear up rates, but he said he has already been hugely impressed by the officers stationed here and paid tribute to his predecessor, Chief Inspector Paula Hilman.
And he revealed that he is to get nine new recruits when they finish their training in June - a massive boost as the full time reserve bows out.
Among his priorities will be to ensure the public have better accessibility to local officers. He is a supporter of Neighbourhood Policing and sees that as one of the areas which, resources permitting, he would like to strengthen.
"We have a dedicated team and they are all very positive and hard working but that there is still a lot of work to be done," he said.
" I am going to make mistakes - I know that - but we want to work with the community to tackle the problems they have."
In the past year domestic burglaries in Lisburn has reduced by 3.5 per cent and domestic violence - an area where Lisburn has one of the highest rates in Northern Ireland - has been reduced by a third.
Mr Moore is pleased with those figures, but he is not complacent. "Clearance rates will be challenging and we have been asked to reduce crime by five per cent which will also be challenging for us," he said "Lisburn has one of the best clearance rates in the district and that is something that we have to continue to push.
"Domestic burglaries are down but they are not going away so we have to work on that."
He said part of that process was getting across to residents how they can help reduce the burglary rate by locking their doors and windows and fitting alarms in their homes. And he said it was a disappointment to the police that road deaths in the city had not been reduced in the last year. He pledged action to cut the loss of life on local roads.
Mr Moore is also conscious that there has been much criticism at the rate at which police chiefs have changed in the city in recent year.
But the Chief Inspector, who has 13 years service in the police, made it clear that while no-one could predict the future, it was his intention to stay for the forseeable future.
"Obviously we are in a disciplined organisation and we have to go where we're sent, but I was delighted to move here when the post in Lisburn became available and I won't be going seeking a move in the next couple of years" he said.