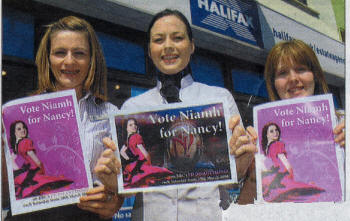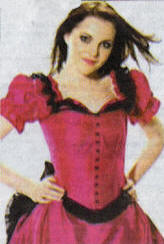 LISBURN residents are being urged to give it some 'Oom-Pah-Pah' and get voting for Niamh Perry as she competes to be Nancy in the forthcoming West End production of 'Oliver'.
The 17-year-old starlet, who hails from Bangor, has become a familiar face in recent weeks appearing on the BBC's 'I'd Do Anything' as Andrew Lloyd Webber strives to find another West End star.
Now, however, as the final nears, her local relatives are urging everyone to get behind the girl whom former 'Fagin' himself, Barry Humphries, described as 'exquisite', saying "I've been Fagin to a lot of Nancys and I'd be very happy to take a curtain call with you."
Nadine Webb, Managing Partner of Halifax Estate Agents in Market Street is the fiancée of Niamh's cousin Martin Savage from The Spa and has been closely involved in drumming up support for her.
Nadine is urging everyone in the city and surrounding district to give Niamh their support in Saturday night's quarter final of the hit TV show.
"Niamh is a great girl and has strong family connections with Ballynahinch, and obviously with myself here in Lisburn. She is very close to Martin and all the family and we are all so proud of her" Nadine said.
"It is hard to believe she is only 17, she has been so calm and professional each week and has always given her best. Niamh is a mature girl who has always dreamed of making it big in musical theatre, and she has all the talent required to make her dream a reality. She has really impressed the judges and Lord Andrew Lloyd Webber has been full of praise for her."
Niamh has seen off the challenge of over 10,000 auditionees to make it to the final five, and is just two weeks away from making it to the final of the competition.
However, it took the 'Lord' to come to her rescue on Sunday evening as Lord Webber had to save her in the sing-off, something her family are hoping she will avoid going through this week. Martin said: "We all thought she did brilliantly on Saturday night and we were really disappointed that she was in the bottom two this week. We really need the local public to get behind her.
"Many local people have recognised the huge talent that Niamh has and have commented to us when we meet them on the street. But she needs the support of the public in Lisburn and beyond and she needs their votes if she is to make it past next weekend."
The show goes out live on Saturday on BBC1 NI at 7.45pm with the results show on Sunday evening at 7.35pm.