by MARY MAGEE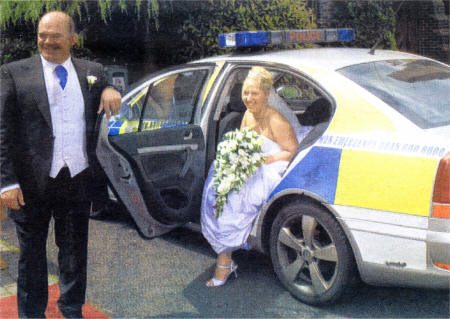 Nichola and dad Eric arrive at Templeton Hotel in the police car. Pics by FRANK HIGGINSON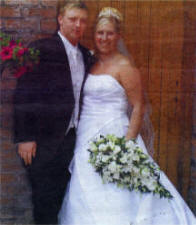 IT'S every bride's right to arrive late for her own wedding, but it's something different to arrive late and in a police car.
But Nichola McCall, who married Gary Balmer on Thursday, was not under arrest...the vintage gold Bentley car she was travelling in had broken down and Lisburn police stepped in to give Nichola and her father Eric a lift to the wedding destination at Templepatrick.
The pair had left their home at The Brambles at Knockmore Road at 1.40pm for the wedding at the Templeton Hotel, just minutes after the bride's mother and bridesmaids had left in a black Daimler. But the car broke down just a mile away at the Pond Park Road..
They had just rung the bride's mum Arm to tell her what had happened when Nichola's knight in shining armour arrived, in the form of Inspector Mark Roberts who was on patrol at the time.
He saw what had happened and offered the police car to get bride and father to Templepatrick, just in time - well just 20 minutes late.
Ann said up to that point the wedding plans had been been running smoothly.
"When Eric rang and said that they had broken down I thought that it was just one of his pranks, he is always joking around," she said.
"But when he said our car would have to come back again to Lisburn to pick them up I realised he was serious."
Minutes later Ann got another phone call to say that everything was fine and that they had got a lift - from the police.
"Nichola didn't care what transport she had, she was just glad to get to her wedding," said Ann. "When she got into the vintage car there was a lot of care taken to get her dress in. But when she got into the police car her father just threw the dress behind her."
All this time the husband to be, Gary Balmer, was waiting patiently in Templepatrick.
"When he heard what had happened his first thought was she wasn't going to make it," said Ann. "It's the sort fo thing you read about, but you don't expect it to happen to you."
Insp Mark Roberts said: "It was a pleasure to be able to help a bride on her big day and make sure she got to her wedding on time. Helping people is the very basis of our job and it was great to get the opportunity to do it in such a nice way."