Dromara man summits Carstensz Pyramid
by JULIE ANN SPENCE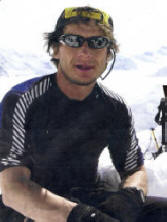 DROMARA man Noel Hanna has reached the summit of Indonesia's daunting Carstensz Pyramid, the highest peak in Oceania and the sixth peak in his Seven Summits to Sea Level challenge.
His goal is to scale the world's seven highest peaks, followed by seven arduous and top-speed descents to Sea Level — and gain an entry in the Guinness Book of Records.
After previously scaling Mount Everest, Noel this week achieved his sixth mountain summit in his world record bid, by getting to the top of the 16,020 ft granite wall known as Carstensz Pyramid. Having secured sponsorship from the Chicago based investment firm and online brokerage PEAK6, Noel is now just one peak away from a world record - for the fastest ascent and descent of the legendary Seven Summits, the world's seven highest mountains.
But despite a gruelling 16,000 sq ft climb, Noel cannot rest on his laurels - he now has to navigate a rapid descent to sea level on foot.
The Seven Summits to Sea Level challenge has been daunting for the Dromara-based endurance athlete and expedition consultant.
It has added up to three years, five continents, hundreds of logistical challenges - and one goal in sight, a new entry in the Guinness Book of Records.
With the sixth peak conquered, it now remains for Noel to scale the heights of Mt Vinson in Antarctica to clinch this awe-inspiring new world record, and a place in climbing history.