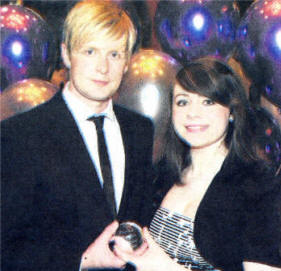 LISBURN student Nuala McGowan, who is already well known to local audiences for her performances with Fusion Theatre, has received a major career boost with the award of the 2008 Thomas Devlin Bursary.
Nuala, who recently took to the stage of the Island Arts Centre as Madame Thenardier in Fusion's production of Les Miserables, is one of eight young people studying performing arts who received a financial award from the Thomas Devlin Fund.
The fund was set, up by family and friends following the murder of Thomas, who was 15 when he was stabbed to death near his north Belfast home in August 2005.
Nuala, 18, is a former student of St Dominic's High School and is now studying for an acting degree at Mountview Academy of Arts in London. Unfortunately she was unable to attend the awards ceremony at the Europa Hotel at the weekend so her twin sister Niamh, also a budding actress who recently took on the role of Fantine in Fusion's Les Miserables, accepted the award on her behalf.
Penny Holloway, Thomas's mother, said: "We are delighted that the Fund is able to offer this financial assistance to these talented young people. We hope that as a result they will be able to achieve their aspirations and we will be following their futures with interest.
"We are grateful to the individuals, companies and trade unions who have donated so generously to the Fund since it was established in 2006.
"Their contribution has made these awards possible.