by NEIL GREENLEES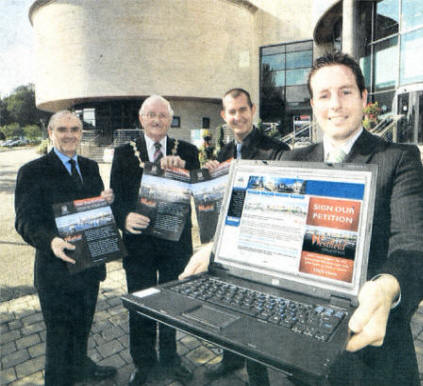 LISBURN City Council is giving people across Northern Ireland the chance to demonstrate their support for the proposed John Lewis complex at Sprucefield.
The Mayor Councillor Ronnie Crawford last week joined with the Chairmen of the Corporate Services and Planning Committees Councillors Paul Givan and Bill Gardiner Watson to launch an online petition calling for the development to proceed.
They hope this will be signed by thousands of shoppers who would like to see a John Lewis store open in the province before it is presented to the Northern Ireland Environment Minister Sammy Wilson.
Mr. Givan warned if the application is rejected the project will be diverted to a location outside Dublin: This would mean a loss of a £200 million development and potentially 2000 jobs, which Northern Ireland, in the current economic climate, cannot afford," he added.
Mr. Crawford, emphasised that this was not just a debate for the people of Lisburn.
He said people must "move away from the notion the planning application was a local issue for Lisburn. "It isn't. This is about providing choice, jobs and investment for all the people of Northern Ireland, especially at this time of economic downturn," he continued.
"Instead of turning such investment down we should be embracing it with open arms and I have no doubt that the vast majority of people in Northern Ireland would rather see John Lewis represented in the province than not at all."
Mr. Watson said Northern Ireland had always been overlooked "due to its troubled past.
"The investment by companies outside of Northern Ireland confirms that we have come out the other side and are experiencing a brighter future," he added.
The petition will be available on the council's website, www.lisburncity.gov.uk. Petitions will also be available to sign at council facilities throughout the city.
Meanwhile the council has written to both First Minister Peter Robinson and Minister for the Environment Sammy Wilson urging the Department treat the John Lewis planning application as a priority and that a Public Inquiry gets underway as a matter of urgency. Speaking about the process, Councillor Bill Gardiner-Watson, Planning Committee Chairman, said the delays with the previous applications had been wholly unhelpful.
"I would hope this application can now be processed as quickly as possible, certainly as quickly as other recent retail applications in the Belfast area and we are calling for The Planning Appeals Commission' to be adequately resourced in order that this application is dealt with as a priority given its economic and employment benefit for all of Northern Ireland," he added.
Development would pose 'a major challenge to existing businesses'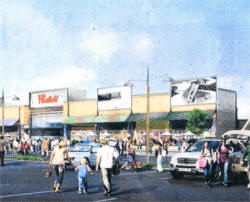 DEPUTY Mayor Alderman Edwin Poots has conceded the opening of the proposed John Lewis development at Sprucefield would pose 'a major challenge to existing businesses'.
However, he said he was confident many of them would 'rise to this challenge' and 'benefit from the additional footfall generated as a consequence of one of the biggest brands in British retailing' opening its only shop in Northern Ireland on the outskirts of Lisburn. Speaking at the launch of last week's exhibition of plans for the complex at the Irish Linen Centre Mr. Poots also said the additional rates revenue raised from the development would help fund work to put Lisburn on a par with 'the finest compact cities in Europe'. He said he believed the additional rates estimated at around £500,000 per year should be invested in the city centre and its links with Sprucefield. "It is essential that we work towards a win win
situation for all of Lisburn. The public want to see Sprucefield develop but they do not want Lisburn to become a ghost town," he continued. "I believe that we can not only deliver on both issues, we can use this as an opportunity to deliver an attractive, vibrant and exciting Lisburn well capable of attracting the visitors to Sprucefield that extra mile into a reinvigorated forward looking city centre."
Mr: Poots also said the proposed investment in a period of economic downturn was to be "warmly welcomed. Given the difficult trading conditions which are particularly difficult in the construction industry, £150 million of investment with a potential further £50 million in fitting out is the type of boost the industry needs," he continued.
"The 1,500 jobs half of which would be in the John Lewis store will also be a major boost to the local economy."
---
Developers to discuss transport links with Roads Service
THE developers behind the proposed John Lewis development have pledged to hold detailed discussions with Roads Service about the need for good transport links between Sprucefield and the city centre.
A spokesperson for Westfield said it was 'too early' to look at precise details but added they were 'very aware' of how important the council and the local community felt this to be.
His comments came as it emerged Westfield is one of a number of objectors to the construction of four retail warehouse units and associated site works on the former David Prentice site at Sprucefield.
Other objectors are Greens Food Fare of Bow Street; Smithfield Centre Ltd., of Shore Road, Holywood; Marks and Spencer; Smyth Patterson Ltd of Market Square and Sprucefield Centre Ltd.
The Planning Appeals Commission has informed the objectors the matter will be heard by means of informal hearing.
This will take place on Thursday November 13 at 10.30am in the Hearing Room, Park House on Belfast's Great Victoria Street.
The objectors have been asked to supply information about their intentions in relation to participation at the hearing by September 19.