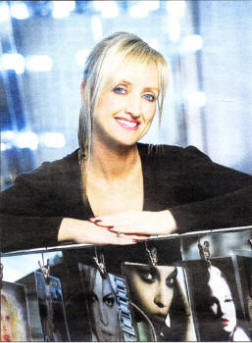 A TOP makeup artist from Lisburn has launched Northern Ireland's first ever `Makeup Excellence Awards'.
Oonagh Boman has been running the province's only dedicated school of makeup for ten years and decided to recognise the wealth of talented student makeup artists who have attended her school this year.
She also hopes that the awards will attract more students in Northern Ireland to consider makeup artistry as a career option.
Oonagh, whose portfolio boasts prestigious fashion shows, newspaper and magazine shoots and TV and advertising campaigns said; "Over the past ten years I have nurtured the best of Northern Ireland's makeup artists, who have excelled in their field and gone on to open their own makeup boutiques and win National awards.
"To coincide with my 10th anniversary, I have decided to launch Northern Ireland's first ever makeup awards to recognise the up and coming talent I have nurtured.
"The winner will also be given the opportunity to work with me on location at prestigious projects, which will be an amazing platform to kick-start their career."
One of Oonagh's first students, Clare McKinney, was the first makeup artist to clinch the 'Irish Makeup Artist of the Year' award. She now runs Clare McKinney Makeup and Beauty in Hillsborough and said she was indebted to Oonagh for her on-going support.
She said: "Oonagh is the most passionate, professional person I have ever worked with and she has nurtured me from when I was a student, to helping me set up my own business. Oonagh was, and still is, my mentor and she sets a standard that all makeup artists should aspire to achieve."
The Awards' will take place in February 09, where one winning student will walk away with thousands of pounds worth of prizes.